Begin typing your search...
Yezdi makes a comeback
Available in 3 models- Yezdi Adventure, Scrambler and Roadster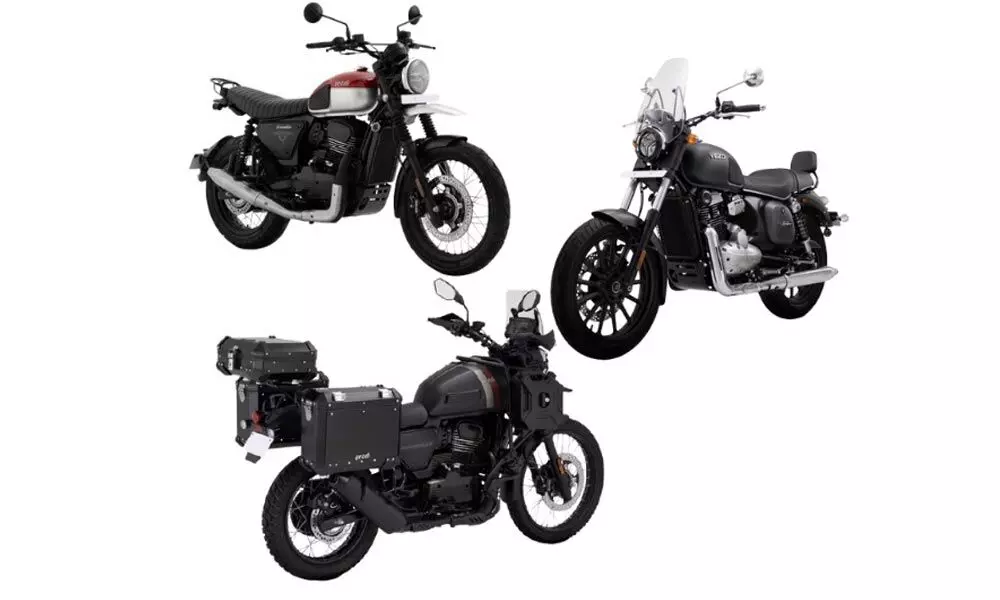 Hyderabad: The 'Legendary Yezdi' is back. Classic legends on Thursday announced the launch of three new models- Yezdi Adventure, Scrambler and Roadster. The new range of Yezdi motorcycles will be available across Classic Legends' dealership network, which already retails Jawa motorcycles in India for viewing, test rides, bookings and deliveries. Yezdi Roadster is available at a starting price of Rs1.98 lakh, Scrambler at Rs 2.04 lakh and Adventure range at Rs 2.09 lakh.
Packed with modern technology and retro styling cues, the new generation of Yezdi motorcycles powered by a liquid-cooled, fuel injected, DOHC single cylinder engine displacing 334cc, but tuned differently to suit the persona of the motorcycle it is mounted in.
Anupam Thareja, co-founder, Classic Legends, said: "While its spirit lived on through its die-hard community and in the mind and hearts of every rider. We have the legacy, but now we will create our own lineage. As custodians of the brand, we made sure that we preserve and celebrate the Yezdi rider's essence in these new avatars."
To Amp up the lifestyle quotient and complement the applications they're built for, each Yezdi model will also come with its own range of accessories, carefully curated to enhance the visual appeal and functionality for the rider.