Begin typing your search...
Retrofit electric 3Ws can cut costs, air pollution
Present viable pathway to reduce emissions, maximise savings for owners while decreasing cost of acquiring new EVs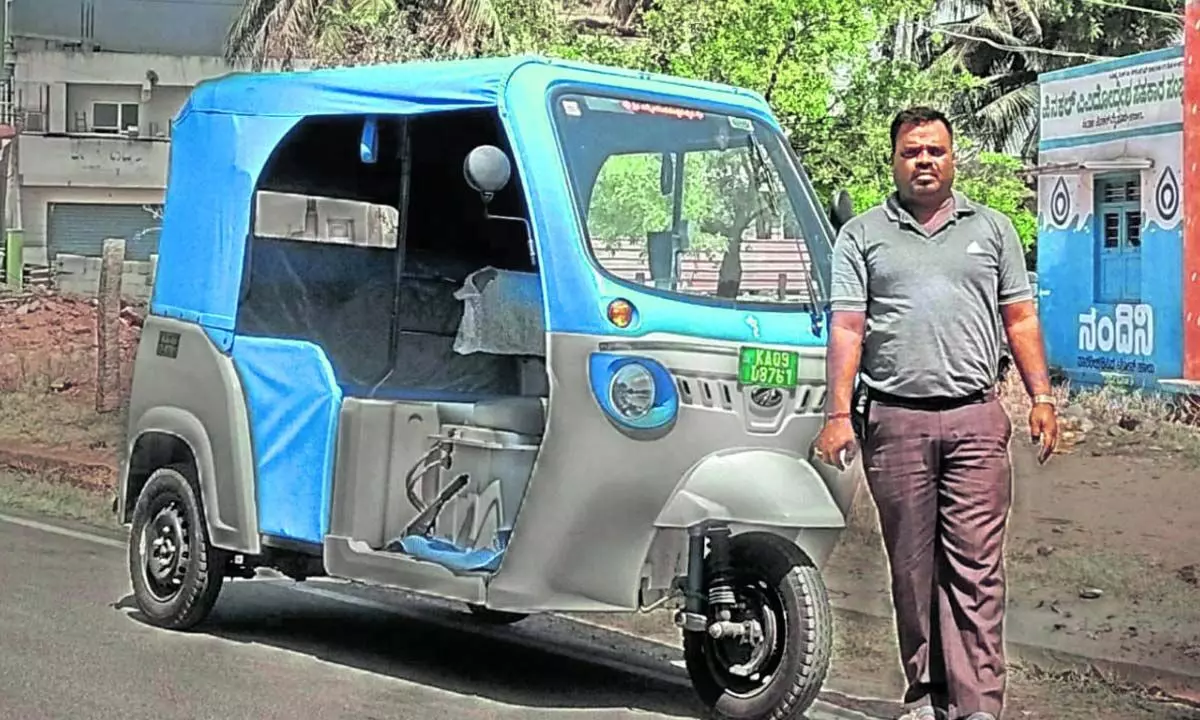 Hyderabad: Electric retrofit solutions for public transport, especially three-wheelers (3Ws) can result in enhanced savings for vehicle owners with a subsequent decrease in the cost of acquisition of a new electric 3W. Electric retrofit solutions for 3Ws present a viable pathway to reduce emissions, improve air quality and address the environmental, economic, and social challenges associated with auto-rickshaws used for public transportation in India.
In this regard, a few State governments, including Telangana government, have proactively added the retrofitting solution into their Electric Vehicle (EV) policy and also announced incentives to support electric retrofit solutions for 3Ws.
The Telangana State Nodal agency is planning for implementing the innovative business model by onboarding the retrofit kit OEMs and financial institutions through the process of empanelment and tendering. The simple concept of economies of scale will help in the cost reduction of retrofit kits. Further, a digital platform will be developed by the state nodal agency with the empanelled financial institutions, which will help the consumers to choose between the OEMs and financial institutions for retrofitting.
According to an analysis by International Copper Association-India, an electric retrofit 3W results in total savings of Rs 2.16 lakh per year vis-à-vis petrol 3W; Rs 1.96 lakh per year against diesel 3W and Rs 1.62 lakh per year against CNG 3W. Moreover, the total payback period for electric retrofit 3W – the time required for the breakeven of kit cost – can be achieved in approximately 1.06 years.
Retrofit vehicles provide an average daily earning of Rs 1,200 as compared to an average daily earning of Rs 700 with internal combustion engine (ICE) vehicles. Retrofit vehicles give more earnings, reduce air pollution and help in preserving the environment.
Highlighting the significance of electric retrofitting, Mayur Karmarkar, Managing Director, International Copper Association, India said, "The adoption of electric retrofits can contribute significantly to sustainable urban mobility by reducing emissions, improving air quality, and promoting energy efficiency. However, addressing technological, financial, and regulatory barriers is crucial for the successful implementation and scaling of electric retrofit solutions."
Electric retrofit solutions for three-wheelers involve the conversion of traditional internal combustion engine (ICE) vehicles into EVs by integrating electric powertrains and components. This process aims to replace conventional fuel-based systems with clean and efficient electric propulsion systems, enabling existing three-wheelers to operate using electricity instead of fossil fuels.
The retrofitting process involves modifying and upgrading the vehicle's powertrain, which consists of components such as the engine, transmission, and fuel system. These components are replaced or modified to accommodate electric counterparts, including an electric motor, motor controller, battery pack, and charging infrastructure.