Begin typing your search...
Oben Rorr electric motorcycles hit the road in Bengaluru
Oben Electric conducted the First to Rorr event at their manufacturing facility in Jigani, Bangalore where the company handed over the Oben Rorr to the first set of customers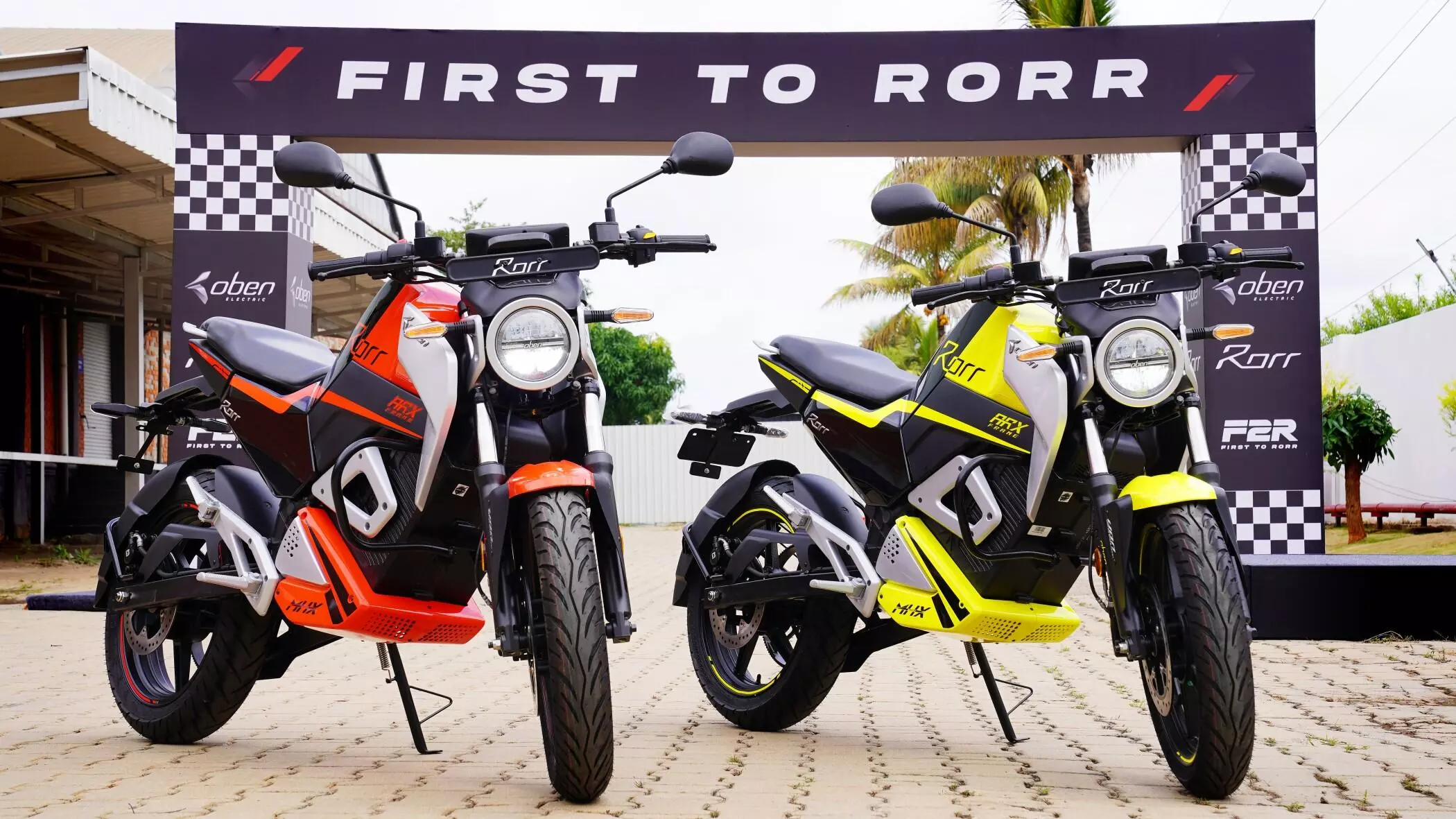 Hyderabad: Oben Electric, a Bengaluru-based EV startup, has successfully delivered the first 25 units of its performance electric motorcycle, the Oben Rorr, one of India's safest electric two-wheelers. Oben Electric conducted the F2R (First to Rorr) event at their manufacturing facility in Jigani, Bengaluru where the company handed over the Oben Rorr to the first set of customers. As an appreciative gesture to their first 25 customers, Oben Electric offered them exclusive Oben Electric merchandise to go with their new Rorr, at the F2R event.

Oben Rorr, the performance electric motorcycle with a class leading acceleration of 0-40 kmph in three seconds further makes a strong value proposition by offering first-in-segment three free services in the first year to their customers, a 50,000 km for three-year warranty extendable to five years or 75,000 km, whichever is earlier, a three-year motor warranty, free roadside assistance, and a nationwide access to over 12,000 charging stations through charging partners.

The Sales of Oben Rorr commenced in May 2023 from their first experience centre at Bengaluru's HSR Layout and has seen a tremendous growth in their sales despite the EV industry witnessing an overall dip in sales due to the reduction in subsidy.

According to the company, the key factors driving the sales of Oben Rorr include performance better than a 150cc petrol motorcycle, new age design and smart features. Furthermore, the in-house R&D, development & manufacturing of Oben Rorr along with the battery and motor enables Oben Electric to offer competitive pricing of Rs 1,49,999 (ex-Showroom) to its customers. Such attractive pricing comparable to a 150cc petrol motorcycle combined with minimal operational cost makes it easy for customers to switch to electric motorcycles.

With an impressive total of 21,000 preorders, the EV motorcycle brand is actively expanding its manufacturing capacity, along with plans to open showrooms and service centers in every city and state, solidifying its presence across India. Further, to enable such growth, the company is set to double the team size in the coming months.

Madhumita Agrawal, Founder and CEO, Oben Electric, said: "As we celebrate the delivery of our first 25 Oben Rorr electric motorcycles, the excitement within our team at Oben Electric is profound. This moment fills me with immense joy and gratitude, and we can't thank our customers enough for their trust and support on this exhilarating journey. Importantly, this accomplishment is a testimony to our pioneering innovation in the sustainable electric two-wheeler industry, pushing the boundaries of what's possible."

Oben Electric, founded in August 2020 and headquartered in Bengaluru, is an R&D-driven organisation that designs, develops, and manufactures electric motorcycles and critical EV components in-house. With a team of passionate technologists with over 25 years of collective hands-on experience in the electric two-wheeler industry, Oben Electric focuses on "Design in India for the World."

The company has been at the forefront of transforming the electric two-wheeler landscape in India, introducing several groundbreaking initiatives. Oben Electric pioneers the use of advanced battery chemistry, such as LFP, in electric two-wheelers, offering enhanced safety, longer range, and cleaner operation compared to other widely used battery chemistries. Additionally, the company holds more than 21 patents for its proprietary technology and EV components.

As an early entrant in the electric motorcycle market, Oben Electric is leading the adoption of electric motorcycles in India, which happens to be the world's largest motorcycle market. With limited competition at present, the company aims to become the largest electric motorcycle OEM globally. Their vision is to revolutionise the industry by providing cutting-edge electric mobility solutions that cater to the diverse needs of riders.