Begin typing your search...
Kia India rolls out one millionth vehicle
The celebration also marked the production commencement of new Seltos which is one of the most evolved, safer and smarter SUVs to be available in India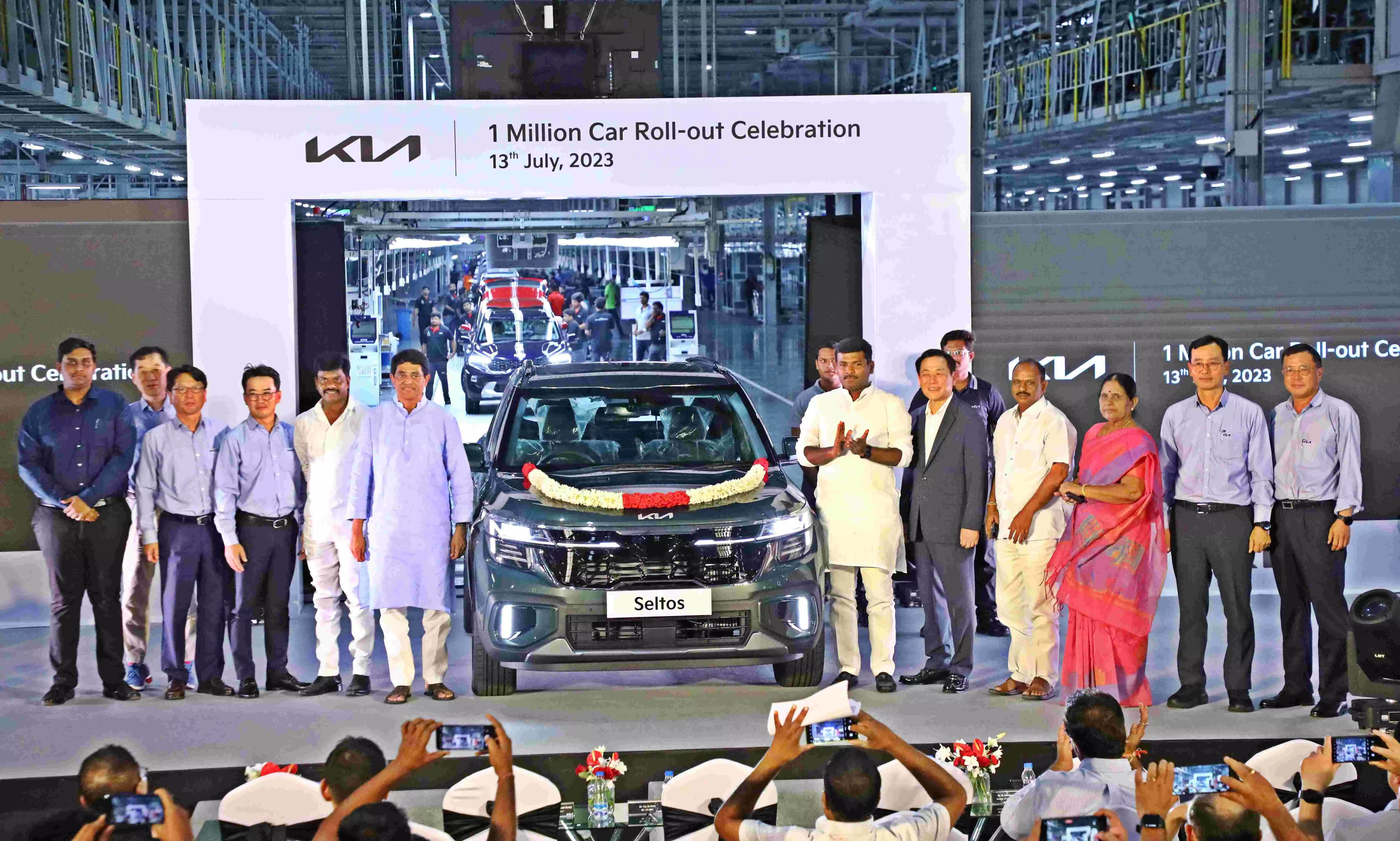 Anantapur: Kia India on Friday achieved a milestone by dispatching one million vehicles from its futuristic manufacturing facility here by rolling out the first unit of its newest innovation-the new Seltos.
The celebration also marked the production commencement of new Seltos which is one of the most evolved, safer and smarter SUVs to be available in India. The new Seltos comes with a new-age design, 32 safety features including the most-advanced Level 2 ADAS with 17 Features and much-awaited features like panoramic sunroof.
The ceremony was graced by the presence of Minister for Finance Buggana Rajendranath Reddy, Minister of Industries and Commerce Gudivada Amarnath, MP Gorantla Madhav and Penukonda MLA G Sankaranarayana.
The new car is available for pre-bookings in India from Friday. This significant achievement underscores Kia's commitment to the Indian market and showcases the success of its strategic approach, the company said in a press release.
Unveiling the one millionth car, Tae-Jin Park, Managing Director and CEO, Kia India, said, "This is a big moment for us, our employees and our partners who have lived and supported our journey and helped us in making Kia an integral part of Indian consumer's lives today. We are extremely grateful for their support and the love of our customers."
He said, "I feel that the future is bright for Kia India, and the new Seltos marks the beginning of an exhilarating chapter as we continue to drive towards automotive excellence in the Indian market. We will remain dedicated to driving innovation, pushing boundaries, and shaping the future of mobility in India."
Kia made its entry into the Indian market with the launch of the Seltos in August 2019, which quickly became one of India's favorite SUV brands. In a record time of 46 months, it achieved the remarkable milestone of 500,000 sales. Kia further expanded its product portfolio with the Carnival and Sonet in 2020, followed by the Carens and EV6 in 2022, solidifying its position in the Indian market.
The state-of-the-art Kia facility at Anantapur has so far manufactured over 532,450 units of Seltos (both outgoing and incoming), followed by 3,32,450 units of the Sonet, 1,20,516 units of the Carens and 14, 584 units of the Carnival.
As a part of the one million celebration, Kia India also unveiled its vision for future "Inspiring Mobility Solutions that enrich lives." Under this, Kia India will focus on providing an inspiring mobility experience to the discerning new age Indian customer. It aims to transform into Kia 2.0 by garnering 10 per cent market share soon with new segment entries, customer centric innovations and expanding the network from 300+ to 600+ salespoints.
Kia India said it strongly believes that the only way to create more organic growth is by creating a stronger Kia brand affinity amongst new age customers through focused community and employee development initiatives. That's why it has already started an impact movement through its CSR initiatives–Project DROP (Develop Responsible Outlook for Plastic) and Uphaar (gifting fruit trees to farmers in need).
The release stated that while DROP aims to address the alarming concern of plastic waste and restrict its spread across landfills and water bodies, Uphaar is a tree plantation program initiated to extend support to the marginalized agrarian community and combat climate change. Through its 'Lifestyle Management' program, Kia is providing its employees with access to a diverse range of experts who can offer guidance and support for their physical and mental well-being.
Additionally, Kia India is supporting a slew of community development programs including a comprehensive skill development and livelihood enhancement program for rural women to support the communities in and around the plant. In collaboration with Kia India, Timbaktu collective will train local women in a 36-week program for helping them gain economic independence.