Begin typing your search...
India's automotive industry needs time for an EV makeover
After the recent EV fire incidents, adaptability of EV batteries and reliability of power supply, in extreme Indian conditions, has come under intense scrutiny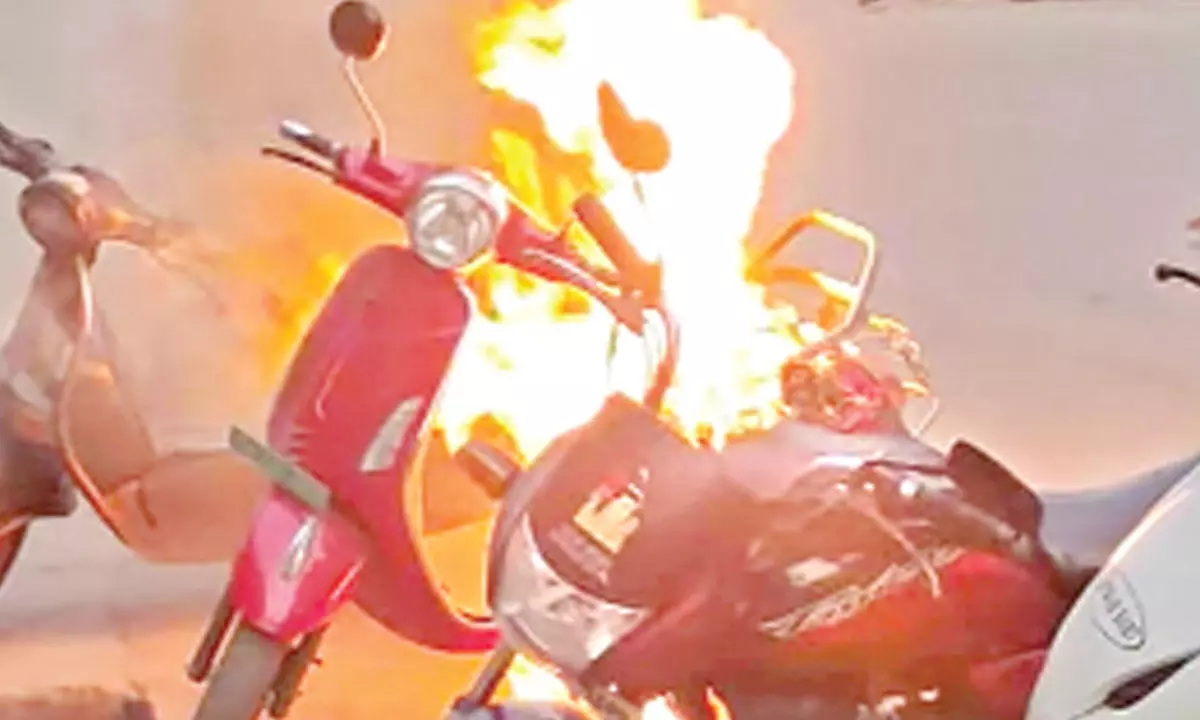 India's electric vehicle (EV) adoption, especially in the two-wheeler segment, had a dream start, with electric two-wheelers registering a staggering 132 per cent growth in 2021. This exponential demand resulted in most EV companies reporting long waiting periods in full-filling their orders. Enthusiasm among early adopters clubbed with rising fuel prices has mostly driven end users' toward aggressive adoption of electric vehicles.
The phenomenally rise in EV rollout was primarily stimulated by startups like Ola Electric, Ather etc., and supported by traditional two-wheeler manufacturers like Bajaj, TVS and Hero with their EV versions of e-bikes and scooters.
In April, half a dozen fire accidents involving electric scooters were reported from different parts of the country. And the latest incident of a battery explosion that resulted in the death of an 80 years old man and severe burn injuries to his family members in the Nizamand district of Telangana state has raised serious questions, on the safety of EVs, in the minds of buyers.
Though the jury is still out to determine the reasons behind the series of fatal fire accidents; however, a few areas have been flagged as areas of concern in the new emerging technology. For example, the adaptability of EV batteries and reliability of power supply which are key components in an EV, in extreme Indian conditions, has come under intense scrutiny.
"From Ola Electric to Okinawa Autotech, several EV makers are under the scanner for reported fires in their e-scooters" is evident from the series of tweets by Union Road Transport and Highways Minister Nitin Gadkari, wherein he cautioned EV companies to take "advance action to recall all defective batches of vehicles." The minister further assured that his ministry will "soon issue quality-centric guidelines for electric vehicles."
EV is an emerging sector, and it will have to undergo these trials and tribulations because the industry is primarily driven by startups who are either first-time entrepreneurs or with little or zero first-hand experience running an automobile company. In addition, the technology itself is evolving and undergoing rapid changes.
Since it will take a while before reasons are found and fixed. In the meantime, the EV industry has to carry on with business during this waiting period. So, what should be done while corrective measures are being designed to ensure the safety of human lives? Below are a few simple steps that can be implemented.
Allow the EV sector to mature: This industry requires support from manufacturers to end-users and governments to enablers; only then it will grow and mature.
Safety first, not sales: While the industry is busy releasing EVs and building supporting environments such as charging stations and services centres, it is also aggressively engaged in R&D, building and testing new products & variants. However, given that companies have little time due to demand and limited regulatory guidelines to test and certify products, the ounce is on EV manufacturers to hold themselves responsible not to be involved in a rat race for sales at the cost of human lives.
Speedup enablers ecosystem: Similarly, the government should aggressively roll out enabling ecosystems such as Centers of Excellence (CoE), Testing Facilities, and Industry Technology Consortia(ITCs) that lead to a collaborative environment among academia/Laboratories and private companies as envisaged under the Technology Platform for Electric Mobility (TPEM) vision.
TPEM is a joint initiative of departments of heavy industry (DHI) and science and technology (DST), and it was set up in April 2015 as part of the National Mission for Electric Mobility (NMEM) Plan. Under the program, a key vision is to "develop technologies & products that specifically address India's needs." This means companies should develop technologies to manufacture components and parts that suit Indian conditions.
Educating end-user: Last but not least, there is also a need to educate end-users about the risks, dos' and don'ts around the use and misuse of EVs. Companies should use their advertising and PR budgets to create awareness about the current risks associated with EVs. Again, the best example is the equity market, where investors are apprised of the risks related to stock market investment.
The EV sector is still in its primitive stage, wherein manufacturers are experimenting with components, battery chemistries, cell constructions, battery management systems, thermal management systems, and battery pack designs and charging stations. What they need is time to mature the system.
(The author is Founder, MyStartup TV)