Begin typing your search...
Electric 2-wheeler sales in India soar 158% in FY23
Total sales of e-two-wheelers (E2W) were at 8,46,976 units in FY23 compared to previous fiscal of 3,27,900 units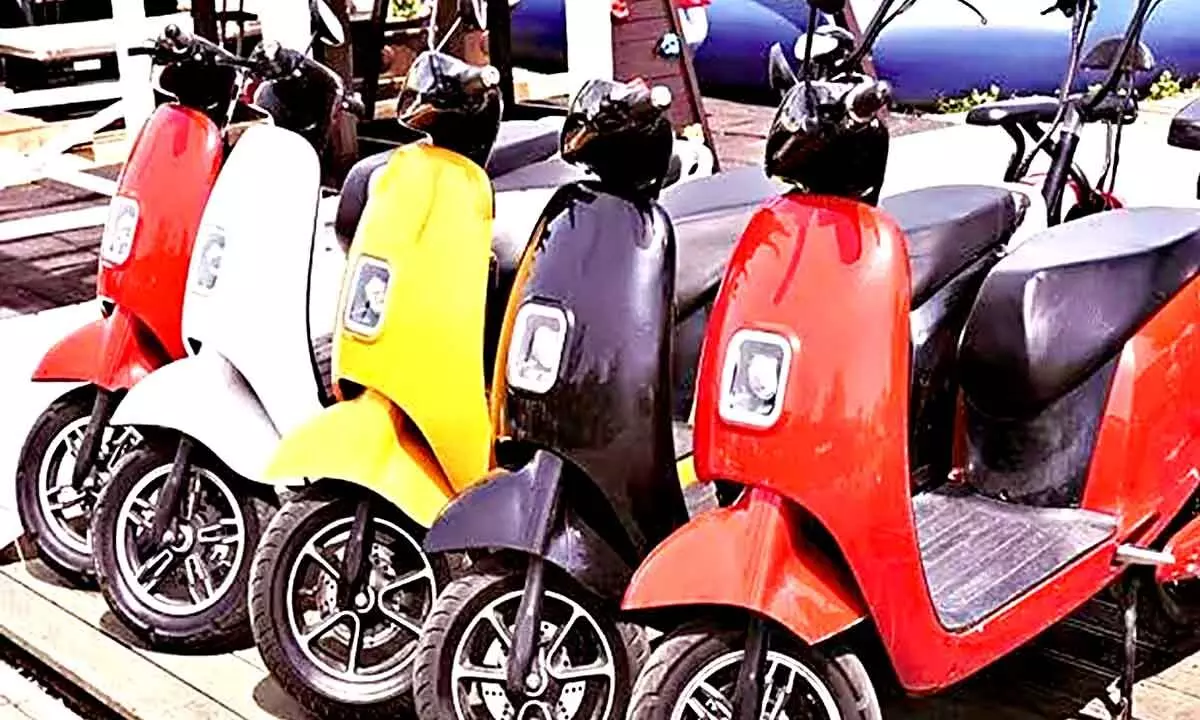 • FY23 saw sales of 1.2 lakh low-speed e-scooters
• Industry sold 7,26,976 high-speed E2Ws
• Withholding of subsidies under FAME II has impacted sales
New Delhi: Electric two-wheeler sales in India rose over two-and-half fold (158%) to 8,46,976 units in 2022-23 over the previous fiscal, Society of Manufacturers of Electric Vehicles said on Monday.
Total sales of e-two-wheelers (E2W) were at 3,27,900 units in 2021-22. Citing data sourced from manufacturers, Society of Manufacturers of Electric Vehicles (SMEV) said FY23 saw sales of 1.2 lakh low-speed (LS) e-scooters with top speed less than 25 km/hr. "In the electric two-wheeler segment, the industry sold 7,26,976 high-speed E2W (top speed more than 25km/hr) in FY 2023," it added.
In 2021-22, sales of low speed e-scooters were at 75,457 units, while those of high speed e-scooters were at 2,52,443 units. SMEV said in FY23 E2W adoption ended "with an annual shortfall of more than 25 per cent over the minimum target set by Niti Aayog and various research organisations". The industry body said withholding of subsidies under FAME II for not complying with Phased Manufacturing Programme (PMP) guidelines under the scheme has had an impact on the sales of E2Ws.
"Ironically it was not the consumer demand but the sudden withholding of more than the Rs 1,200 crore subsidy already passed on by the majority of original equipment manufacturers (OEMs) to customers on the pretext of delay in localisation," it said. Another Rs 400 crore of the OEMs operating in the premium-end also got stuck due to the allegation of under invoicing to bypass the FAME norms leading to crippling of their business operations due to extreme shortage of working capital, SMEV added.
"Today 16 companies that represent more than 95 per cent of the industry are waiting for some resolution for the chaos and the fiasco of the FAME PMP are cleared to enable them to plan their businesses in the year FY24," it said. SMEV Director General Sohinder Gill said, "With only 5 per cent adoption in FY23 and the short-term goal of 30 per cent and the EV mission of 80 per cent adoption by 2030 looks more like a mirage." However, he said, "All is not lost and what perhaps can put the industry back on track is an extension of the PMP eligibility criteria by 2 years and strictly enforcing it from April 23."
SMEV pointed out that the government's decision on the continuation of the FAME scheme is a critical piece that will decide the fate of the entire industry and the market is eagerly waiting for clarity. To encourage the development of the EV ecosystem and make it self-sustaining, it is crucial to have an extension of the FAME scheme for at least 3-4 years, it said.
"The confusion among players is making it difficult for them to develop a long-term strategy. Any abrupt reduction in subsidies will have a significant influence on the growth trajectory and could jeopardise the government's plan for e-mobility. It will have a negative effect and could completely eliminate a sizable portion of the market," it added.