Begin typing your search...
AP Inc cheers new industrial policy
Industrial Development policy 2023-27 paves way for pvt industrial parks, focuses on EoDB, global ecosystem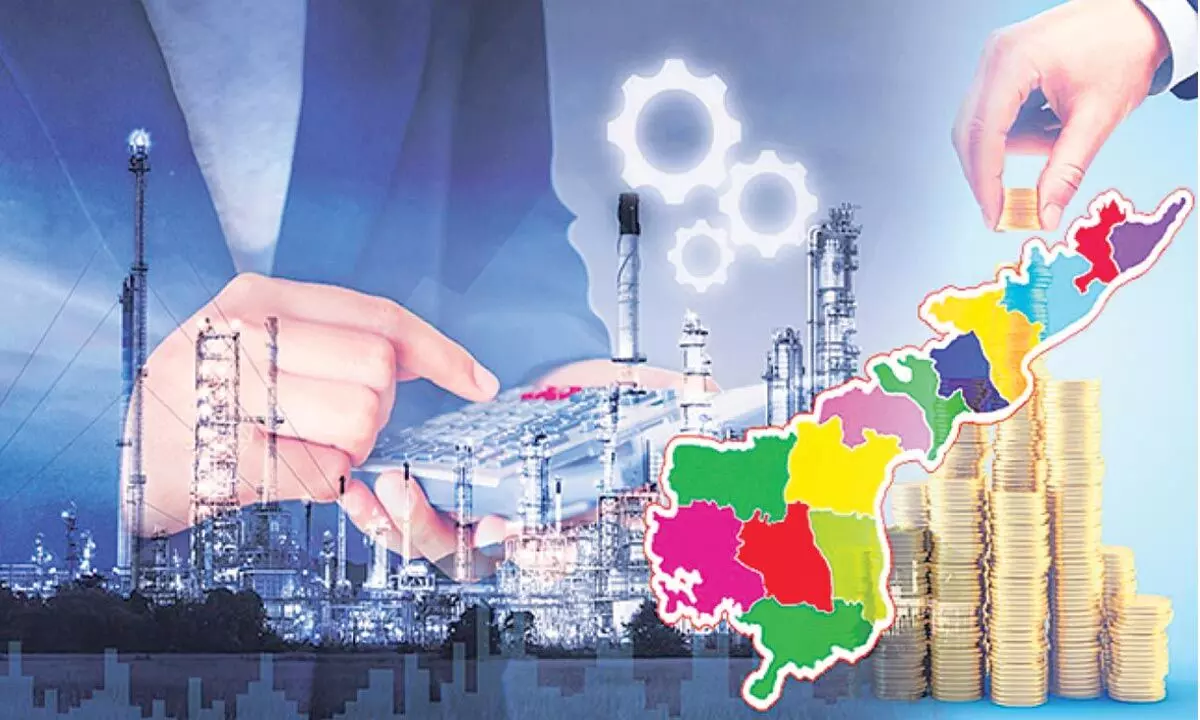 - Industries and Commerce Dept issued GO
- Major thrust on port-led development
- Facilitates allotment of land on lease upto 60 years
- It'll have option to buy after 10 years
- A startup zone will come up in Vizag
- Govt will set up 3 lakh sft iconic tower at Rushikonda
Visakhapatnam: Representatives from the industrial organisations have lauded the New Industrial Policy announced by YS Jagan Mohan Reddy-led Andhra Pradesh government for 2023-27. They hailed the decision to encourage private industrial parks, a long-pending demand from the captains of the industry.
In the policy, the government talked about transforming Andhra Pradesh into a global investment destination by improving the ecosystem and ease of doing business (EoDB). Infrastructure development is being given topmost importance as part of port-led development in the policy, according to a GO issued by the Industries and Commerce Department.
One of the highlights of the policy is to allot land on lease for 33 to 60 years and give the option to buy after 10 years subject to fulfillment of allotment norms. A startup zone will be established in Visakhapatnam, for which the government has already announced its decision to set up an iconic tower with a built-up area of three lakh sft at Rushikonda.
"The new industrial policy is a good policy delivered by Chief Minister YS Jagan Mohan Reddy and Industries Minister Gudivada Amarnath. Giving industry status to the logistics sector will provide the much-needed ease of doing business benefiting the entrepreneurs," G Sambasiva Rao, vice-president, National Association of Container Freight Stations (NACFS), told Bizz Buzz.
Rao, who is the MD of Sravan Shipping Services, said that under the new policy, the private industrial parks are allowed and also given incentives to the developers.
"This is a good move and hence, all genuine industry people will come and develop the industries. By this economic and employment activity will improve. Best model is Sri City."
He said the government has expressed willingness to provide infrastructure to all the ports and industrial parks.
Pydah Krishna Prasad, president of Andhra Pradesh Chamber of Commerce and Industry Federation (APCCIF), said: "The policy gives a lot of confidence to the investors as the government is firm in encouraging private industrial parks. He said this will give an impetus to ancillary and downstream industries by creating new job opportunities to the locals.
Prasad said land has been promised to the investors all along the three industrial corridors passing through the State viz Visakhapatnam-Chennai Industrial Corridor, Hyderabad-Bengaluru Industrial Corridor and Chennai-Bengaluru Industrial Corridor.
"We are allotting land as part of early bird incentive to those who ground the projects within six months of signing MoU," Advisor on Industries Sridhar Lanka said.
He said Elista, a TV and monitor manufacturing company, is setting up a facility in YSR Kadapa district. He said the company is all set to launch work within a month or two.
Elista signed a MoU with the government at the Global Investors' Summit held in Visakhapatnam early this month to manufacture 10 lakh TVs and an equal number of monitors per annum by setting up a plant in an area of 1.32 lakh sft. A young entrepreneur said the policy is good and hoped that its implementation and release of incentives on time will be taken care of as envisaged in the policy.
The new industrial policy is a good policy delivered by Chief Minister YS Jagan Mohan Reddy and Industries Minister Gudivada Amarnath. Giving industry status to the logistics sector will provide the much-needed ease of doing business benefiting the entrepreneurs
- G Sambasiva Rao, V-P, NACFS, tells Bizz Buzz