Begin typing your search...
Food grain production at record 305.44 MT
Higher by 7.93MT in for 2020-21; Centre allocates Rs 50K cr additional fund for MNREGSA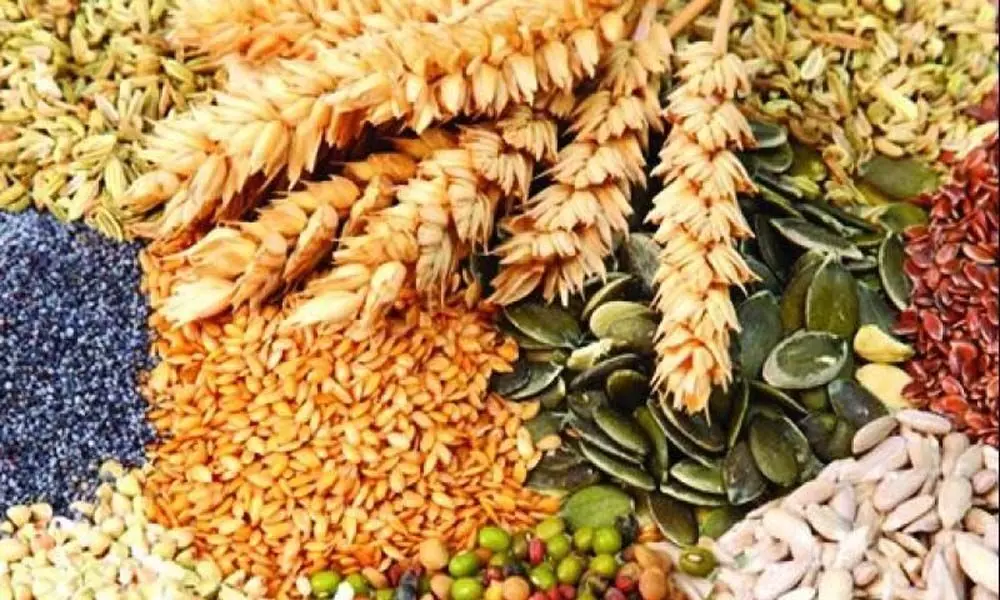 Narendra Tomar, Union Minister of Agriculture and Farmers' Welfare, has announced that total food grain production for 2020-21 is estimated at record 305.44 million tons (MT), which is higher by 7.94 million tons as compared to 2019-20.
He was addressing the webinar on NABARD's 40th Foundation Day. He stated that during the Covid times, allocation to MNREGA was increased by Rs 50,000 crore and moratorium was extended to eligible business entities along with a liquidity facility.
Appreciating the work done by NABARD, Tomar said, "NABARD has been at the forefront in development of the Indian Agriculture. It has made available crop loans to farmers at concessional rates through cooperative and regional rural banks and in the last seven years, this amount is Rs 6.5 lakh crore. NABARD has also given a loan of Rs 1.81 lakh crore to the States under the Rural Infrastructure Development Fund, out of which about one-third amount has been provided for irrigation. The yearly allocation has been increased to Rs 40,000 crore for 2021-22. It is extremely important to provide timely credit to small and marginal farmers in the Indian agriculture sector, for which the government successfully launched a campaign in Mission Mode to provide Kisan Credit Cards to all PM-Kisan beneficiaries even during the Corona pandemic."
Dr Krishnamurthy V Subramanian, Chief Economic Adviser to GoI highlighted that private investment is needed for the development of the Indian Agriculture and to induce more innovation through investments. He mentioned that the new Farm Bills were crucial for the development of small and marginal farmers.
Commenting on the Agriculture sector's growth, Subramanian said, "Given the seminal reforms that have been undertaken by the government over the last one year, it will be addressing many issues, especially faced by small and marginal farmers. For small and marginal farmers, credit is extremely important and institutions like NABARD ensure that provisioning of credit to these farmers happens across the country. Because of this, the small and marginal farmers do not have to remain beholden to the intermediaries and informal channels of credit instead being able to really borrow from the formal financial sector and thereby being enable to break some of these bonds, bondage that has been experienced by them."
GR Chintala, Chairman, NABARD, hinted that it is crucial to improve agriculture infrastructure which includes irrigation, godowns, cold storages, logistics, markets, health and along with other related infrastructure. For this, there is a requirement to make reasonable investment in green infrastructure which would be close to Rs 18.37 lakh crore by 2024-25, out of which, Rs.7.35 lakh crore would be for the agriculture infrastructure.
Commenting on the occasion, Chintala said, "India is undergoing transformation graduating from two trillion dollars to five trillion dollars and it is a matter of time that is going to happen in the current decade. The agriculture ecosystem is changing which will make the life of the farming community much more comfortable as it will have access to information technology for farming systems, processing as well as exports, which will elevate the income levels. Over the decades, NABARD's efforts have been to uplift the farming and rural community through various measures and our commitment is to create a system where 140 million small and marginal farmers, rural women and agriculture labourers, get their due from the institutions which are established for their betterment."
NABARD registered total refinance disbursement of R 2.23 lakh crore and has disbursed a whopping Rs 65,746 crore towards rural infrastructure development during FY2021.