Begin typing your search...
Vicky Kaushal and Katrina Kaif mesmerize fans with their intense love and unwavering gaze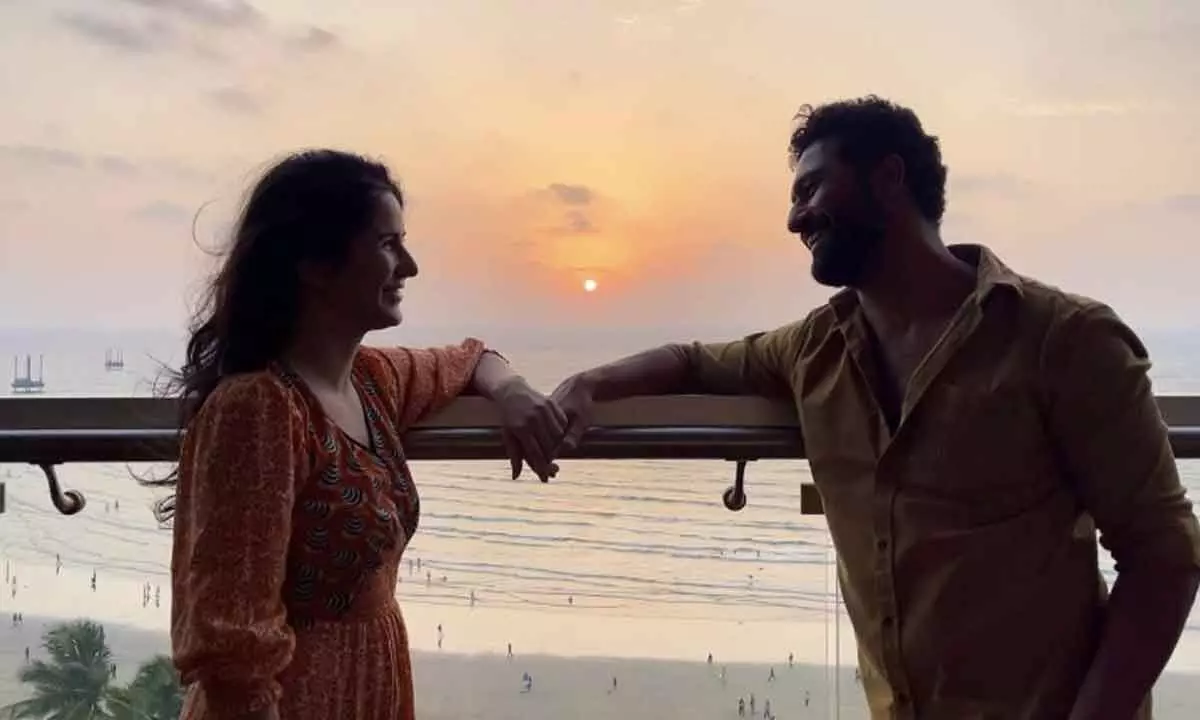 Vicky Kaushal and Katrina Kaif, one of Bollywood's most beloved couples, have recently shared a heartwarming picture on Vicky's Instagram handle, much to the delight of their fans. The photograph captures a beautiful sunset as the couple stands hand in hand, lost in love, on their balcony. Vicky accompanied the picture with a caption consisting of home, heart, and red heart emoticons, adding a touch of simplicity to the post. He also cleverly linked the song "Phir Aur Kya Chahiye" from his latest film, "Zara Hatke Zara Bachke," in the caption, giving it a deeper meaning.
The couple's fans quickly flooded the comments section, expressing their excitement and longing to see Vicky and Katrina together in a romantic comedy film. Arjun Kapoor, a close friend of Vicky's, also joined in, hailing Katrina as a "guru" and showing his support for the couple. The fans' overwhelming response further solidifies their desire to witness the magic of Vicky and Katrina's chemistry on the silver screen.

Vicky and Katrina surprised everyone by tying the knot in a private ceremony in Rajasthan in December 2021. Despite the persistent rumors about their relationship, the couple managed to keep it under wraps for a significant period and refrained from publicly confirming their romance. However, their adorable social media posts and occasional glimpses at public events often hinted at their love story.

In a recent interview with News Tak, Vicky playfully described their marriage as a union between paranthas (a popular Indian bread) and pancakes. He explained that despite their different preferences, they both appreciate each other's choices. Vicky shared that Katrina loves pancakes, while he is fond of paranthas. Interestingly, Katrina also enjoys eating paranthas, especially those prepared by Vicky's mother, which adds a personal touch to their relationship.

Looking ahead, Vicky Kaushal has his upcoming project "Sam Bahadur" in the pipeline. The film tells the story of India's war hero and first Field Marshal, Sam Manekshaw. Scheduled for release on December 1, 2023, this highly anticipated biographical film promises to captivate audiences with Vicky's exceptional acting skills.
On the other hand, Katrina Kaif has a busy schedule as well. She will be seen opposite Salman Khan in the action-thriller film "Tiger 3," slated to hit theaters on Diwali this year. Additionally, she is set to star in director Sriram Raghavan's film "Merry Christmas" alongside Vijay Sethupathi. Moreover, Katrina is yet to begin shooting for Farhan Akhtar's "Jee Le Zaraa," a project that also features Alia Bhatt and Priyanka Chopra.
As fans eagerly await the on-screen reunion of Vicky and Katrina, their off-screen love and admiration continue to charm and inspire. Whether it's through their endearing Instagram posts or their individual cinematic ventures, this power couple never fails to captivate the hearts of their fans.