Begin typing your search...
Twitterati applauds Alia Bhatt's Indian accent in Heart Of Stone, takes playful jabs at Priyanka Chopra's 'fake accent'!
Alia Bhatt, marked her entry into Hollywood with her role in the spy film 'Heart Of Stone', sharing the screen with Gal Gadot and Jamie Dornan.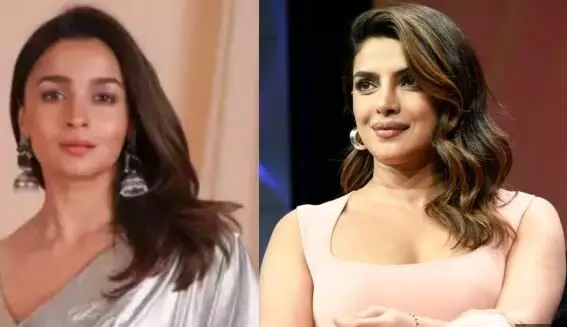 Alia Bhatt, marked her entry into Hollywood with her role in the spy film 'Heart Of Stone', sharing the screen with Gal Gadot and Jamie Dornan. Instead of a traditional theatrical release, the film opted for a digital premiere. Bhatt portrayed the character of the antagonist Keya Dhawan, pitted against Gal's character. Notably, while several Indian stars have ventured into international projects, Bhatt's portrayal retained her South Asian heritage and her distinct Indian accent, gaining admiration from her fanbase.
Bhatt's Hollywood debut aligns her with the likes of fellow Indian stars such as Priyanka Chopra, Deepika Padukone, Dhanush, and Ali Fazal, who have also made their mark in the Western entertainment industry. In 'Heart Of Stone', she embodied the role of Keya Dhawan, a counterforce to Gal, who portrayed an agent of The Charter, a clandestine peacekeeping organization operating in the shadows.
'Heart of Stone' has garnered diverse reviews, as a blend of action and espionage starring Gal Gadot as Rachel Stone and Alia Bhatt as Keya Dhawan. While some have applauded the charisma of both leading actresses, others have found the thriller to be "strictly average."
However, Critics didn't hold back from taking playful jabs at Priyanka Chopra, who has often faced scrutiny for her perceived "fake accent" in Hollywood films and web series. Nonetheless, fervent supporters of Priyanka rushed to her defense, countering the negative remarks with a perspective: "It's important to grasp that the characters Priyanka portrayed in Hollywood are distinctly American. Take Alex Parish, for instance, born and bred in America—her accent aligns with that reality."
Keya ! 🫶🏼

I loved how alia hasn't faked her accent and kept it the way it is. @aliaa08 loved you in heart of stone.💗

ps. The only good thing about movie #HeartOfStone pic.twitter.com/ZJd74PRYx5

— s (@sheeknowz) August 11, 2023
In a unique move, Bhatt embraced her Indian accent, garnering appreciation from fans worldwide. The authenticity of her English dialogues was lauded, with audiences applauding her for not resorting to an artificial American accent. This decision to stay true to her roots resonated with fans, who took to social media to praise her natural portrayal.
Reflecting on her venture into Hollywood, Bhatt expressed her contentment in taking on a supporting role with substance, a departure from her customary lead roles in Bollywood. Despite her Hollywood debut, she remains committed to the Indian film industry and has no intentions of relocating to the United States, unlike her contemporary Priyanka Chopra. Bhatt admires Chopra's pioneering spirit but sees her path taking her through India's cinematic landscape, with occasional international opportunities adding to her journey.