Begin typing your search...
Guns & Gulaabs a whacky crime drama now streaming on Netflix: Watch official Teaser
Raj & DK, the dynamic director duo, embark on a journey through time, whisking us away to the fictional hill station of Gulaabgang – a reminiscent nod to the '90s, resembling the likes of Dehradun or Mussoorie.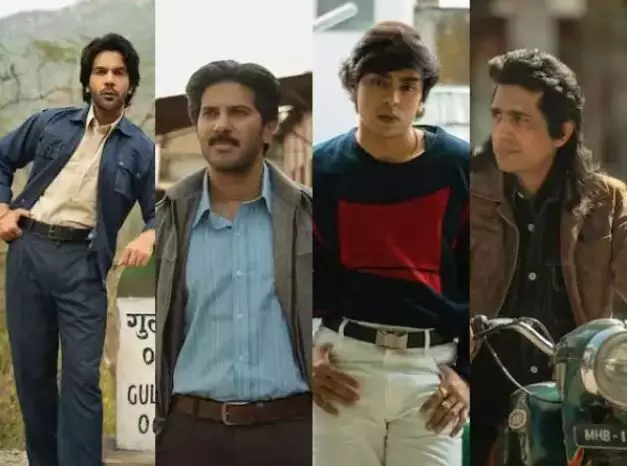 Raj & DK, the dynamic director duo, embark on a journey through time, whisking us away to the fictional hill station of Gulaabgang – a reminiscent nod to the '90s, resembling the likes of Dehradun or Mussoorie. Within this nostalgic tapestry, motifs like Campa Cola and a pink ladies' perfume named Pink Mamba vividly paint the backdrop of the era. However, their attempt to evoke '90s nostalgia also involves schoolchildren, although this element feels somewhat contrived, rather than seamlessly woven into the narrative.
The series commences with two young boys engaging in a spirited debate over the depth of their affections, etching their girlfriends' names onto their arms with a compass – a quirky testament to teenage love. Soon, a boy and a girl fall for each other while walking their bicycles beside each other, eschewing the traditional act of riding them home. The corridors of the classroom are abuzz with politics as the class monitor relinquishes his badge to the new top-performer in class, and mischievous students' names are ominously written on the blackboard. These vignettes featuring schoolchildren garner substantial screen time, yet their integration with the main storyline feels somewhat forced, lacking an organic cohesion.
A standout moment arrives when the class's top student becomes the secret author of love letters in English for a Hindi-speaking mechanic. The process involves listening to English music on his Walkman while adding the finishing touches, including a spritz of his mother's Pink Mamba perfume. Accompanied by the tunes of a Bryan Adams song, the comical scene unfolds, causing confusion for the mechanic and his companion.
However, despite these charming elements, the reason behind situating the story in the '90s remains elusive. The true essence or emotional resonance that Raj & DK intend to invoke in their audience beyond mere nostalgia remains obscure, leaving a void in the narrative despite their evident efforts.
"Guns & Gulaabs" is populated by an assortment of eccentric criminals, offering a parallel between Chhota Ganchi (Adarsh Gourav), the offspring of the notorious gangster Ganchi (Satish Kaushik), and Tipu (Rajkummar Rao), a mechanic and the son of Ganchi's devoted, albeit expendable, gang member. Both protagonists shoulder the burdens of their fathers' legacies. Chhota grapples with the immense pressure to fill his father's shoes but struggles to live up to the expectations, while Tipu is resolute in avoiding his father's criminal path, yet fate dictates he uses a wrench to take lives with a nonchalant ease.
The theme of familial legacies looms prominently, adding depth to the narrative, yet it doesn't manifest as potently as it could due to the series' meandering pace and plethora of subplots. These subplots often entail inconsequential chase sequences and uninspiring scenes, which unfortunately serve to pull the storyline further apart. The talented ensemble cast, despite their individual prowess, function in relative isolation rather than uniting to create the cinematic explosion the narrative yearns for.
Rajkummar Rao, in his character, injects a dose of humor and vibrancy, fully utilizing his extensive character arc. His initial interactions, such as mistakenly forgetting about his father's demise while engaging with a romantic interest, add genuine laughs. Adarsh Gourav's portrayal showcases a layered character journey, while Dulquer Salmaan brings integrity to his role as a cop, albeit weighed down by unnecessary character traits and a tangential adultery subplot. Unfortunately, the women characters are largely left unexplored, with only Chandralekha (TJ Bhanu), a schoolteacher, revealing shades of complexity in her attraction to audacious confessions and casual transgressions. Yet, the series misses the opportunity to delve deeper into her intriguing persona.
A heartfelt tribute is offered to the late Satish Kaushik, who garners memorable moments, quirky lines, and a tribute through a calendar appearance in the closing credits of the first episode. His character's most unforgettable scene involves the creaking, cracking wooden floor beneath him – an apt metaphor for the show's narrative inconsistencies.
Raj & DK wield a seasoned cast and an evocative era to craft "Guns & Gulaabs," yet their vision falters as the story meanders, losing its cohesion, depth, and vibrancy along the way. Perhaps a touch of Pink Mamba and the resonant melodies of Bryan Adams could have rekindled their creative fire – a prospect worth considering for their future endeavors.