Begin typing your search...
Bambai Meri Jaan streaming on Amazon Prime: Stellar Performances in a Familiar Mumbai Underworld story
In the Prime Video series "Bambai Meri Jaan," a brief exchange between the young character Dara and Haji encapsulates the essence of Mumbai's gangster genre.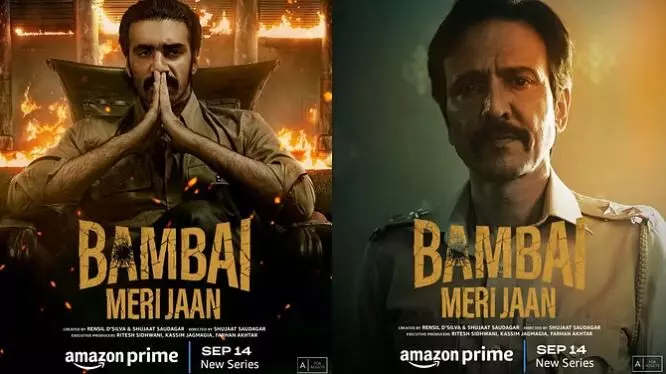 In the Prime Video series "Bambai Meri Jaan," a brief exchange between the young character Dara and Haji encapsulates the essence of Mumbai's gangster genre. It's a world built on unwavering confidence, where foresight becomes the primary way of understanding and navigating a tantalizing yet elusive reality.
This world thrives on challenging the existing status quo, and it's a compelling but somewhat familiar narrative. The series follows a mafia protege's ascent from promise to power, ultimately becoming his own worst adversary. What sets it apart are the outstanding performances by Kay Kay Menon, Avinash Tiwary, and Saurabh Sachdeva.
Menon portrays Ismail Kadri, an upright police officer in the 'Pathaan unit' established by the Mumbai police to counter the rising mafia influence, led by the enigmatic Haji Maqbool (played by Sachdeva). Religion plays a role in shaping the story, as Kadri and Maqbool engage in ideological and religious discussions. The narrative is distinctly set in a Muslim world, carefully crafted without relying on stereotypes or symbols. Both men seek honor but through different means. Kadri asserts his integrity, while Haji's methods may be questionable, but they yield tangible results. These results gradually entangle a reluctant Ismail in the web of the underworld.
Ismail, a father of four, sees his son Dara (Tiwary) embrace a life of delinquency from a young age. Dara skips school, engages in street bets, and cons working-class individuals with the help of a RADO watch. This routine, though mundane, contributes to the gangster mythology of emerging from a place of unpredictability. Dara appears unyielding because, in the eyes of those who hope for his redemption, he cannot sink any lower. The tense relationship between Menon and Tiwary adds a touch of freshness to the series.
However, this freshness is somewhat limited in this 10-episode series created by Rensil D'Silva and directed by Shujaat Saudagar. The broader canvas and narrative progression lack innovation. The series includes the customary voiceover (narrated by Menon) that traces the post-Independence history of Bombay and the role played by figures like Haji in shaping it. As Dara grows into an unyielding thug, his father, defeated and broken, becomes part of Bombay's soft-spoken underworld kingpin. When his son steps out of his shadow, Ismail is released as a matter of obligation. He warns his son that the fire he's ignited will consume them all, setting the stage for Dara's swift rise, fueled by unrelenting violence that paradoxically intertwines with various forms of domesticity.
While the series delves into the male-dominated gangster world, it offers glimpses of women who play pivotal roles, offering comfort and solace in a violent environment. It's a fascinating aspect that could be explored further.
"Bambai Meri Jaan" is a blend of old and new, with an authentic visual appeal that stands out. The costumes, art direction, and the depiction of Bombay's raw urban landscape create a captivating atmosphere. Yet, it remains within the confines of the familiar gangster narrative, featuring gun-toting men who claim the city repeatedly, for better or worse. While the spectacle of mobsters engaging in macho actions may still offer some excitement, there's a question of when this episodic epic about the city's underbelly will break free and offer a fresh perspective.
Both Kay Kay Menon and Tiwary deliver outstanding performances, but their characters are somewhat indistinct due to the saturation of Mumbai gangster portrayals in cinema. Despite religious symbols and names, these characters often speak and behave similarly, contributing to a multiverse of indistinguishable figures. These talented actors deserve a change in tone or approach that goes beyond encyclopedic knowledge of the city's gangster era. Perhaps, like Dara, someone needs to set it ablaze and start anew. While "Bambai Meri Jaan" isn't inherently flawed, it feels like a fashionable, premium rendition of something we've seen before, albeit in its skimpy undergarments. The specifics may not even matter; it's time to refresh the narrative.