Begin typing your search...
Adipurush set for bumper opening this Friday
Theatre owners, trade experts predict a business of over Rs 80 crore on its opening day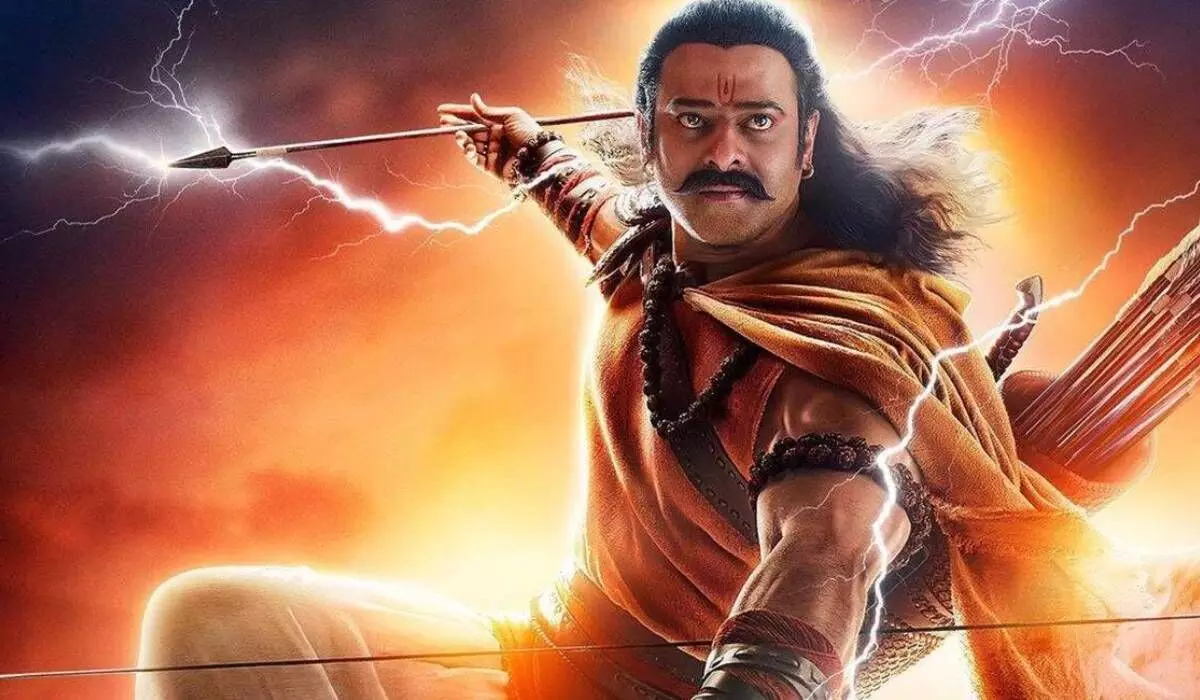 Mumbai/New Delhi: Prabhas-starrer "Adipurush", a retelling of the epic Ramayana, is eying a bumper opening at the box office with trade experts predicting the film could do a business of more than Rs 80 crore on its opening day and comparing its pre-release buzz to "Pathaan".

The big-budget multilingual film, reportedly made on a budget of Rs 500 crore, will release in 3D across the globe this Friday. T-Series, the banner behind the Om Raut-directed movie, opened the film's advance booking on Sunday and theatre owners said the response has been beyond expectations.
"Adipurush" also stars Kriti Sanon, Sunny Singh, Devdatta Nage, and Saif Ali Khan.
Gautam Dutta, PVR INOX Limited co-CEO, said they have already crossed "over 3 lakh bookings for the 1st weekend". Dutta said the star power of "Baahubali" hero Prabhas and the topicality of the film give it "a rare advantage" and "strong legs to move".
"It's going to be one of the biggest films this quarter. The leading languages in this film would be Telugu and Hindi, followed by other languages, and Prabhas being a very popular star down south, that coupled with the entire north belt should give the film a colossal opening," Dutta said.
According to the industry veteran, they are looking at "close to Rs 80-85 crore" on the opening day itself. He said the response around "Adipurush" has been very welcoming and at par with the Shah Rukh Khan-starrer "Pathaan". "So, over the weekend, Friday, Saturday and Sunday put together, we are looking at over Rs 200 crore easy. 'Pathaan' was as touted and as welcoming as 'Adipurush' has been.
A lot of people were waiting for a Shah Rukh Khan film at that point in time... The topicality of the two films 'Pathaan' and 'Adipurush', you'll see that largely the hype or the share of noise in the market, or the expectation, is largely the same," he said.
Exhibitor and distributor Sunny Chandiramani, who runs 25 screens across Maharashtra and Madhya Pradesh, said the advance booking of "Adipurush" is equivalent to that of "Pathaan". "The advance booking is great, it is on par with any big film, like how it was in the case of 'Pathaan'. We hope the film will earn Rs 25 crore in Hindi and overall, the film should do over Rs 80-100 crore on the opening day," Chandiramani said.
Ajay Bagdai, a distributor from Gujarat's Rajkot region, also predicted the film to do a business of "Rs 200 crore" over the weekend. Dutta said while the pre-release excitement resembles the buzz surrounding "Pathaan", "Adipurush" has an edge due to its subject, which will attract audiences across age groups.
The film, he said, is also attracting bulk bookings from "institutions, NGOs, schools and political parties". "We believe that a lot of senior citizens would find their way into the cinema. A lot of family viewing will happen. A lot of parents would want their kids to come and watch the film. "To be very honest, when you look at some of the NGOs, institutions, schools, political parties, and offices wanting to come and watch it, that one is not linked to the star part. That clearly is linked to the topicality of the film," he said.
Devang Sampat, CEO at Cinepolis India, said the response from movie-goers has been nothing short of extraordinary and they have already book 50,000 tickets. "We anticipate a remarkable turnout at Cinepolis cinemas, and it is poised to be one of the biggest blockbusters of this year. The exceptional advance booking numbers are an encouraging sign, indicating promising box office performance, and we expect 10,00,000 patrons to visit Cinepolis cinemas in this week," Sampat said.
Mumbai-based film exhibitor-distributor Rajesh Thadani said he is observing a phenomenal advance booking for the movie in multiplexes as well as single screen theatres. "I am not distributing this film but the advance booking is tremendous. It looks like a great opening for the film on Friday... In smaller centres, there is a tremendous curiosity and people are buying tickets," Thadani said.
Distributor-exhibitor Akshay Rathi, who owns theatres in Chhattisgarh, Maharashtra and Madhya Pradesh, predicted the film's opening day collection to be around Rs 70 crore. "There are corporate bookings happening, where a lot of clubs, associations and organizations buy hundreds and thousands of tickets... After the release of 'Baahubali', Prabhas is a pan-India star, who has a huge following. That has resulted in huge numbers," he added. Bihar-based exhibitor Vishek Chauhan compared the advance booking to previous box office hits such as "Pathaan", "KGF Chapter Two" and "Brahmastra". "As of now, the opening day numbers (in Hindi) might be Rs 25-30 crore, Telugu version will do a business of Rs 35 crore because of the fan following of Prabhas. So, overall, the opening day collection should be at least Rs 70 crore," Chauhan said. Trade analyst Komal Nahta said the phenomenal advance booking across the country will lead to a bumper opening of over Rs 80 crore. "Across all languages, the opening day figure will be Rs 80 crore plus. In the south, it (advance booking) is better, but that does not mean it is not up to the mark anywhere (in the country), it is way beyond the average, everywhere it is exceptional. Most exceptional is in Telangana and Andhra Pradesh," Nahta said. Senior distributor and exhibitor Raj Bansal, who has been in the distribution business for almost six decades and is the director of Entertainment Paradise, a three-screen multiplex in Jaipur, said "Adipurush" might open at Rs 20-25 crore in Hindi-speaking belt.