Row over collection of true-up charges by discoms in AP
Recovery of `3,669 cr as true-up charges draws protests from the Opposition and civil society groups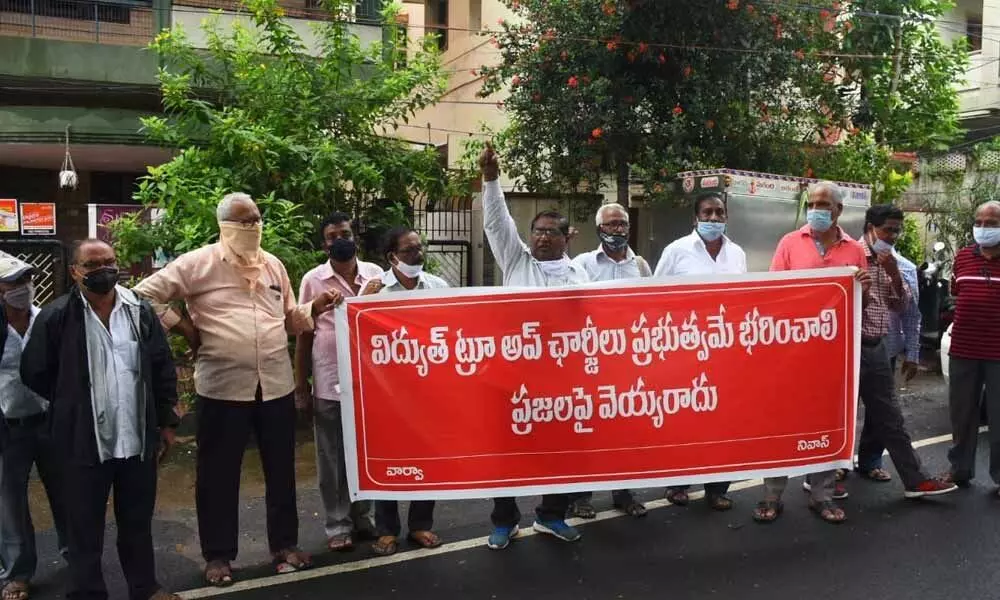 Visakhapatnam: The decision of three distribution companies in Andhra Pradesh to recover true-up charges to the tune of Rs 3,669 crore with prior approval from the AP Electricity Regulatory Commission (APERC) to overcome financial distress faced by them is strongly defended by the State Government even as it has come under attack by the civil society groups and the opposition parties.
Energy Secretary N Srikant in a recent meeting in virtual mode with the CMDs of APSPCL, APCPDCL and APEPDCL said steps are being taken not to cause much inconvenience to the consumers mainly due to the pandemic situation. He said unless and until the utilities ensure operational and economic stability of the sector, they cannot safeguard the interest of the consumers particularly in maintaining 24x7 power supply.
AP had a debt burden of Rs 97,000 crore at the time of bifurcation and Rs 2.58 crore when the five-year Telugu Desam regime came to an end. BJP national secretary and in-charge of AP affairs Sunil Deodhar had tweeted in April "AP's debts have reached Rs 4 lakh crore." The ruling YSR Congress Party blamed the TDP Government's ill-conceived policies and fallout of a long spell of pandemic for the present financial situation.
The decision on levying true-up charges sparked off protests across the State with the TDP, CPI, CPI (M) and BJP strongly criticising the decision to burden the people at a time when they are finding it difficult to cope up due to pandemic-induced job and pay cuts and increase in prices of fuel, LPG and essential commodities.
Among the three distribution companies, APEPDCL headquartered in Visakhapatnam will be collecting Rs.609 crore as true-up charges. "This is the lowest among the three distributors," an official of APEPDCL told Bizz Buzz on Tuesday.
According to officials, the power purchase arrears and operating expenses were Rs12,500 crore as on June 2, 2014, which had jumped to Rs 32,000 crore by April 1, 2019. The State Government claimed that it had released Rs 28,166 crore to the discoms during 2019-20 and 2020-21. In turn, the discoms paid Rs 64,007 crore to the generators during 2019-20 and 2020-21. The utilities have saved Rs 2,342 crore by sourcing power in the open market.
After increasing property tax and introducing garbage collection charges, now the government wants to burden the people more by allowing discoms to levy true-up charges. Visakha Apartment Residents' Welfare Association (VARWA) and Visakha Residents' Colony Associations Federation (NIVAS) have decided to hold a series of protest programmes against collection of true-up charges.
N Prakash Rao and BB Ganesh, president and general secretary of VARWA said the collection of various charges under the pretext of some name or the other are testimony to the fact that power reforms have totally failed.