Nifty's northward climb continues
Dalal Street climbed further northward and closed at a record high.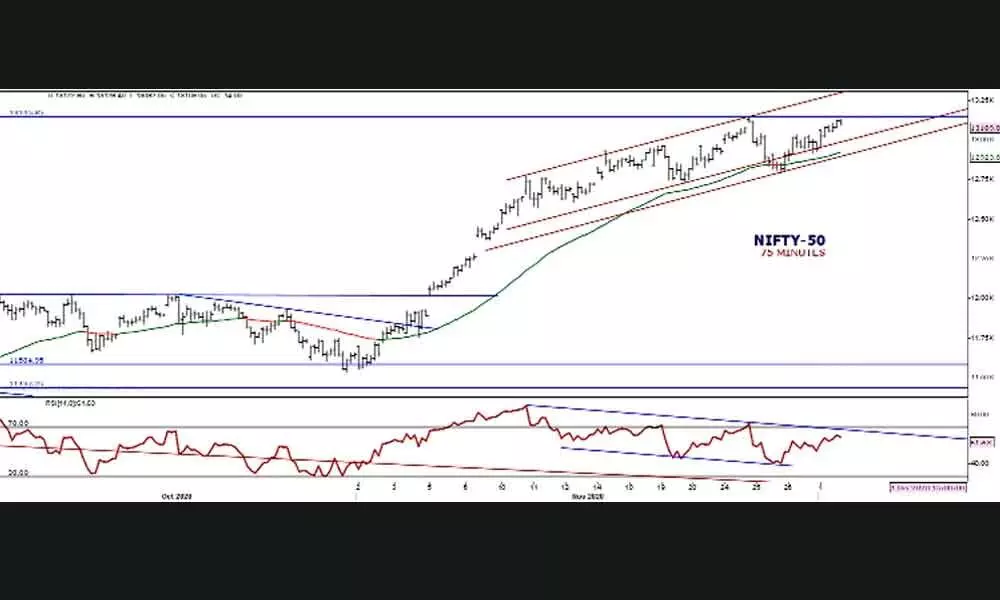 Dalal Street climbed further northward and closed at a record high. The Nifty closed with 140.1 points gain or 1.08 per cent at 13,109.05. Barring FMCG all the sectors took part in the rally. The Realty and PSUs led the rally in the forefront. The Pharma index gained by 1.74 and the Nifty IT index rose by 1.17 per cent.

As the across the broad participation in the market rally, the Broader index Nifty-500, which has 95 per cent of market capitalisation, closed at the new lifetime high. It gained by 1.08 per cent today. The India VIX also inched up by 1.84 per cent to 20.18 as the volatility increased. Overall market breadth is positive as the advances outnumbered by declines.
The Nifty recorded highest closing high. It once again faced resistance at the trend line resistance. It also faced resistance near to the prior high. It closed near the day's high and stronger with a long lower wick. After opening with a gap up, it tested the previous day opening level. It formed a hanging man candle. The volume in the derivatives market is very low compared to the previous day.
New peak margin rules did not impact the trend, but the volume affected. Monday's SGX Nifty's over 200 point volatility also not impacted the over-all trend. The market sentiments are very strong, and the liquidity push was sustaining the market at a higher level.
Every negative pattern and divergences also not shown any impact on market structure. On a 75 minutes chart, the Nifty is moving in an upward channel, and the RSI is moving in a downward channel. This negative divergence will negate once the RSI moves above the 73 levels. Even on the daily chart, RSI still in lower lows and lower highs formation. Until this is negated, it is better to be cautiously optimistic on the direction.
The author is a Financial
Journalist, Technical Analyst, Trainer, Family Fund Manager