Begin typing your search...
Moody's improves GDP growth forecast
Revises India GDP Growth upward to (-) 10.6% for FY21 from (-) 11.5%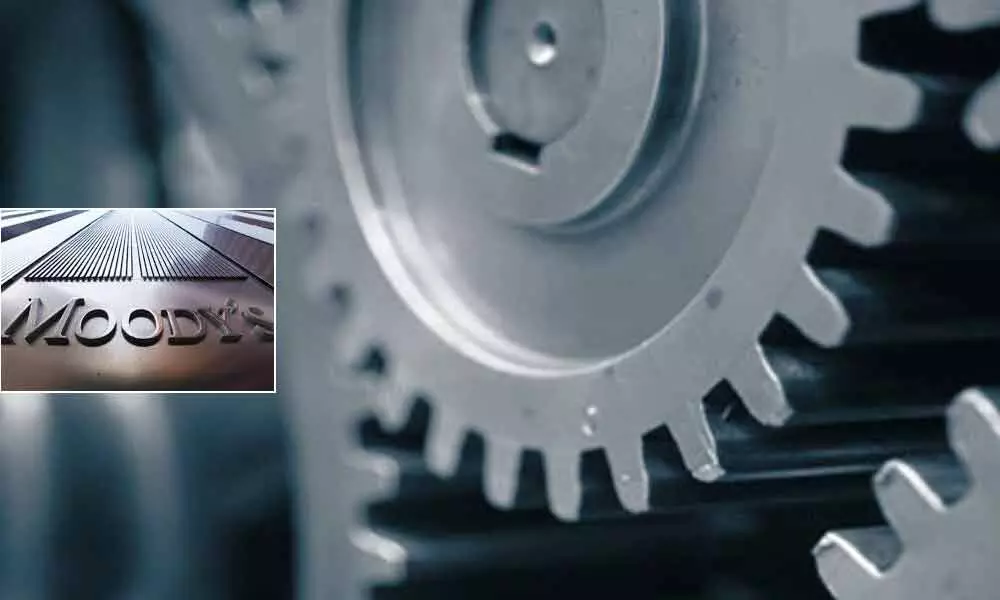 In Sept, global agency projected Indian economy to contract 11.5% for FY-21
For FY-22, India's growth is projected at 10.8% as against previous estimate of 10.6%
Medium term the growth may settle around 6%
New stimulus measures to boost output, jobs
`2.7-lakh cr new fiscal package including production-linked incentive scheme will help manufacturing units
Enhanced credit guarantee programme for small businesses
Supporting investment in infrastructure
New Delhi: Moody's Investors Service on Thursday upped India's growth forecast to (-) 10.6 per cent for the current fiscal, from its earlier estimate of (-) 11.5 per cent saying the latest stimulus prioritises manufacturing and job creation, and shifts focus to longer-term growth.
Last week, the government announced a new fiscal package amounting to around Rs 2.7 lakh crore, which included production-linked incentive scheme for manufacturing units and enhanced credit guarantee programme for small businesses. Moody's said the latest measures aim to increase the competitiveness of India's manufacturing sector and create jobs, while supporting infrastructure investment and is 'credit positive' as it presents potential upside to growth forecasts.
"We have revised our real, inflation-adjusted GDP forecast for fiscal 2020 (April 2020-March 2021) to a 10.6 per cent contraction, from a 11.5 per cent drop previously," Moody's said. In September, the global agency had projected Indian economy to contract 11.5 per cent this fiscal. For fiscal 2021-22, India's growth is projected at 10.8 per cent, as against the previous estimate of 10.6 per cent, Moody's said adding that in the medium term the growth is likely to settle around 6 per cent.
"The country's mixed track record on revenue-raising measures lowers prospects for fiscal policy-driven budget consolidation. A sustained increase in GDP growth would therefore likely be a major driver of any durable future fiscal consolidation," it said.
Moody's forecasts government debt to increase to 89.3 per cent of GDP in fiscal 2020 and decline to 87.5 per cent in fiscal 2021, from 72.2 per cent in fiscal 2019. According to Moody's fiscal deficit would reach around 12 per cent of GDP, with some upside risk, in fiscal 2020 and narrowing to about 7 per cent of GDP over the medium term, still above the deficit of 6.5 per cent of GDP in 2019.
Moody's, however, said that consumer confidence in India remains relatively low amid a continued elevated number of daily new coronavirus cases, although this has come down from a peak in September. "Stronger nominal GDP growth over the medium term would make it easier for India's government to address its weak fiscal position, which the coronavirus has exacerbated," Moody's said.