Begin typing your search...
IFFCO chief gets lifetime award
Sulphur Mills Group CMD Deepak P Shah, known as Sulphur Man, also received the same award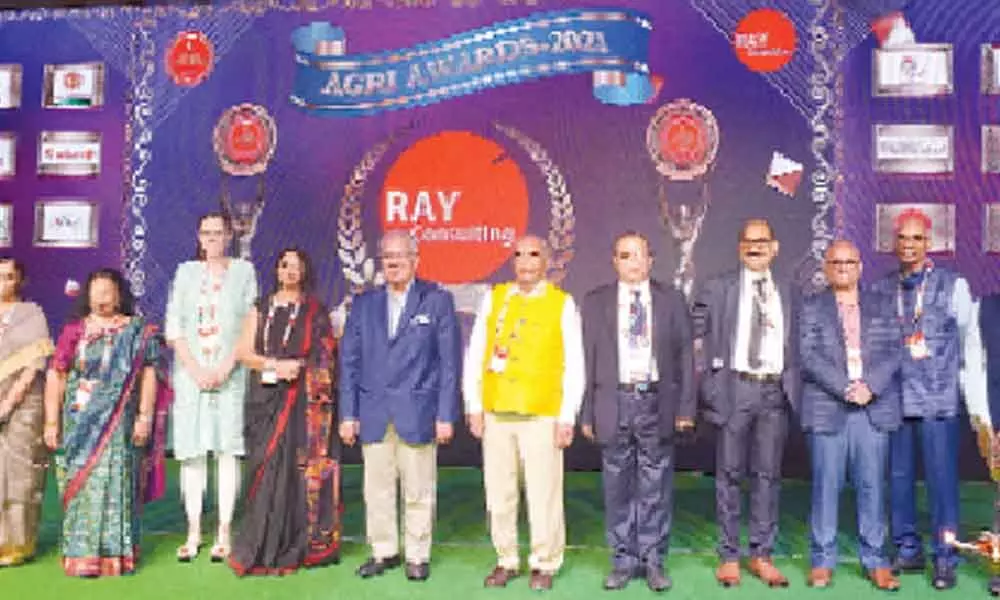 Hyderabad: US Awasti, MD of the world's largest fertilisers cooperative IFFCO, received Lifetime Achievement Award here on Thursday. He also spoke on 'How co-operatives can build strong and sustainable agri-business models' during Agri-Business Summit and Agri Awards (ABSA) 2021 organised by RAY Consulting, a city-based top-notch agri-consulting firm.
During his speech, he said: "The award is not just mine. It's achievement of millions of farmers. Unlike commercial organisations, cooperatives represent grassroots of India. They are responsible for strong and sustainable growth of agriculture in the country. As the real focus is on communities, we consider the whole country as an entity."
Sulphur Mills Group CMD Deepak P Shah, known as Sulphur Man, also bagged the same award on the occasion. After receiving the award, he addressed on 'Future trends—Innovation in agriculture for building Atmanirbhar Bharat'. He said that the latest innovations must reach every farmer and suggested companies to share knowledge so that the nation gets benefitted. Both recipients are the tallest corporate leaders and messiahs of rural farmers. They have put in over 50 years of yeoman service to the agriculture industry and the nation. They are above 70 years of age, but still rigorously working to resolve the issues of farming community. Along with them, several other agri-leaders and entrepreneurs also received awards in various categories.
ABSA 2021 is an annual event of who is who of agro chemicals, nutrition, bio agriculture, seeds, irrigation, farm mechanisation, precision agriculture, researchers, management education, government, finance, universities and social inclusion. Also, there was a panel discussion on "Agriculture was the silver lining in Covid times, how we convert to golden opportunity?"
As a moderator, Technico Agri Sciences Ltd Chairman and ITC Infotech India Ltd Vice Chairman S Siva Kumar said, "The GDP of Indian industry shrank more than 7 per cent, however the agri-sector grew by 3 per cent as all lockdowns exempted agriculture. The governments also reformed agri-laws. More investments poured in, contributing growth of the sector."