Begin typing your search...
E-pharmacies no threat to neighbour
Some online pharmacists earning notoriety for delivering duplicate medicines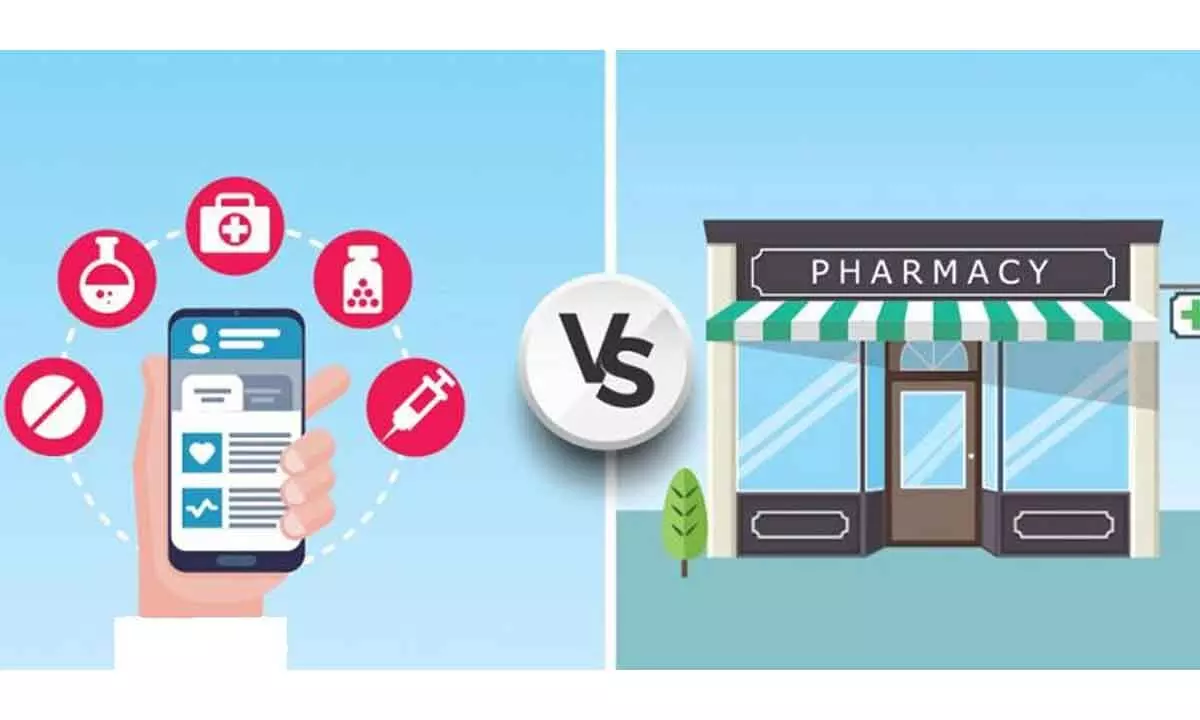 On the face of it, in the era of online purchases, ordering on exclusive apps and portals and getting them delivered at the doorstep sounds wonderful as one need not go all the way to the shop and be saved from extreme climatic conditions.
It is the same when it comes to exploring e-pharmacy options.
Families of patients, and even caretakers, find it simpler to zero in on the right portal or app and place their orders.
However, unlike other businesses, the one query that raises doubts is whether e-pharmacy has in anyway cut into the everyday business of chemists and medical shops. Is there any monitoring or validating agency to establish the genuineness of the medicines that are delivered after placing online orders?
A pragmatic assessment comes from Gangadi Madhukar Reddy, the Managing Director of Medplus.
He told Bizz Buzz, "Online pharmacy is miniscule when we look at the overall picture. There is no doubt that it is offline that takes the lion's share of the turnover. E-pharmacies are not affecting medical stores. According to industry estimates, a mere eight per cent of sales of the total business are generated online. We don't promote online as aggressively, although we meticulously execute online orders. The customer is important."
Adding further, he says, "We deliver almost 95 per cent of orders within two hours. Our discounts after the first purchase rank among the industry best. Though we are not investing much on online business, the fact is that wherever we open a store we door-deliver medicines or other products in the vicinity of the store."
Although, e-pharmacy makes it easy to buy medicines, trouble comes with regard to prescriptions that may have been lost or misplaced. When it comes to medical stores, medicines can be bought by showing the old tablet strip or the bottle. Moreover, patients find it tough to read the medicine's name written by the doctors. As the prescription can only be understood by the pharmacist, one visits a medical store rather than ordering online.
"Generally, we can't decipher names of medicines prescribed by doctors. So, it is not possible to order online. When there is an urgent requirement of medicines it is saner to go to the chemists. A repeat purchase can be done online", pointed out Balla Sateesh, a software engineer.
A bigger worry for the patients and authorities is the risk of counterfeit medicines being sold across online platforms. A medical store owner said that medical portals have not impacted much, which can be understood from the fact that more and more outlets are being established near hospitals, clinics, nursing homes and localities, he said. Moreover, medical shops also offer handsome discounts and their credibility is almost like their USP.
"I have been buying from a medical store in Habsiguda for the past 15 to 20 years because the owner is friendly and has a home delivery facility. I never order online as all the medicines that I require are available in this medical store. If there is no stock, he procures them on my behalf," said Devender, a customer.
Meanwhile, e-pharmacy promoters are facing trouble from the Union Government, which has taken serious exception to complaints