Begin typing your search...
AP flood victims can complain CM
Jagan tours flood-hit areas, says justice will be done to every displaced family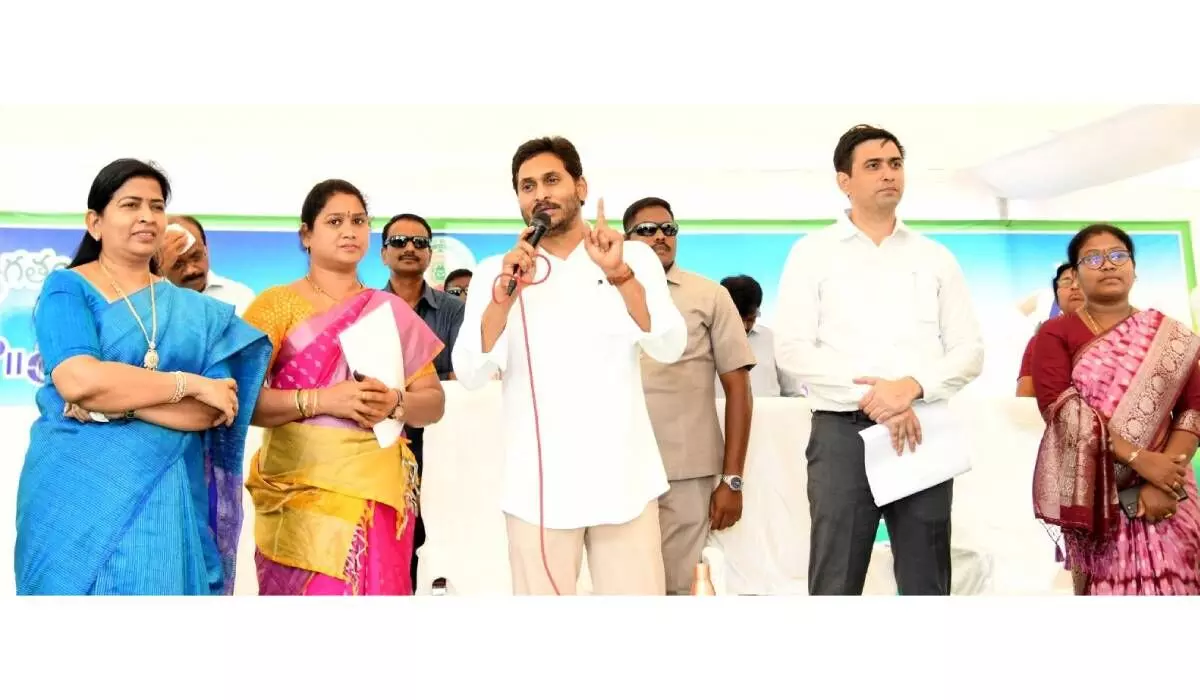 Rajamahendravaram Andhra Pradesh Chief Minister YS Jagan Mohan Reddy on Monday visited flood affected areas and victims of timely relief and rehabilitation work.

He assured them of providing justice and directed all District Collectors and officials to scrutinise the damage caused by the heavy rainfall and provide all the needed relief support to the affected families. He will visit the remaining affected areas on Tuesday.
The Chief Minister said that his government had been providing relief to all families affected by untimely rains and floods for the past four years and will continue to do so even now. Elaborating on the efforts made by the government, he said that multiple rehabilitation centers had been set up to provide food, water, and other essential items to the flood victims. "For the families whose kutcha or pucca houses were damaged due to recent floods, the government is giving Rs 10,000 per house for fully or partially damaged houses. In the last one week, if water has entered the houses in villages, we are providing Rs 2,000 per family. If any family has not received the compensation, please come and report to me directly," Reddy said.
Justice will be done to every displaced family," he said, adding "if you do not receive flood assistance, come here and tell me."
During the visit to ASR and Eluru districts, K Lakshmi from Sabari Kothagudem village in Kunavaram mandal said: "Last year, when our village was flooded, officials quickly responded and provided all relief packages. This year, officials have shifted us to rehabilitation sites even before our village is flooded." Sunita from Kunavaram appealed to the Chief Minister to give financial assistance for non-ST families who are not in a position to construct their houses under the R&R (relief and rehabilitation) package. The Chief Minister reiterated his commitment and said that all problems would be addressed on priority.
Polavaram funds
The Chief Minister informed that 48 new habitations had been identified (using Lidar survey) as Polavaram project affected villages which will be given R&R package along with the previously identified project affected villages. He informed the people that he had made a fresh appeal to Prime Minister Narendra Modi to release pending funds pertaining to the project as soon as possible and Union Cabinet is likely to be obtained by month-end for Polavaram project affected people.