Begin typing your search...
Eurofins to invest Rs 1,000 cr in BioPharma Services Campus
The newly inaugurated campus in Genome Valley will provide employment for around 2,000 people over coming 6-7 years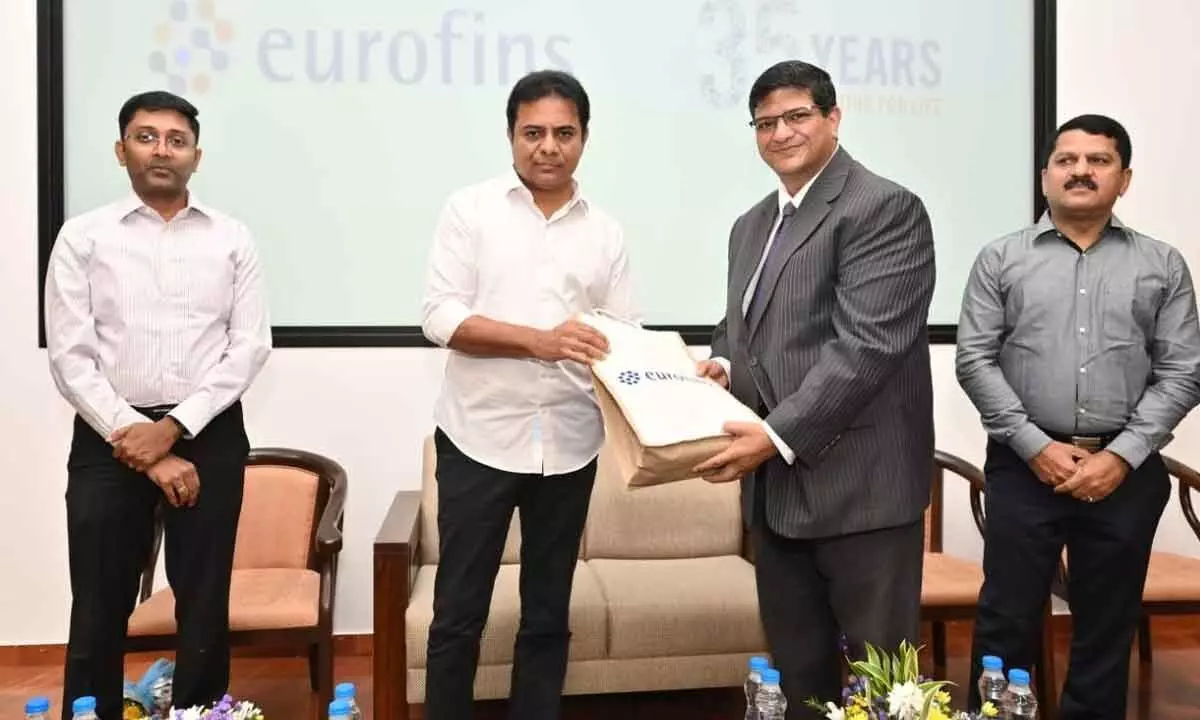 Belgium-headquartered Eurofins has inaugurated its state-of-the-art BioPharma Services Campus in Genome Valley, Hyderabad on Thursday. This is its second campus in India after Bengaluru. As part of its ambitious growth plans, the company will be investing around Rs 1,000 crore and will create employment for around 2,000 people over the coming 6-7 years.

The Hyderabad Campus has about one lakh sq ft of laboratory and office space, located on 15 acres of land. The campus in Genome Valley will provide services in discovery chemistry & discovery biology, safety toxicology, bioanalytical services and formulation development to global pharmaceutical companies.
The centre was inaugurated by Telangana IT & Industries Minister K T Rama Rao. Speaking at the inauguration, he said "I'm delighted to inaugurate yet another marquee addition to the vibrant R&D ecosystem of Genome Valley. It is our vision to establish Genome Valley as the 'global valley of growth' for innovation and R&D. Eurofins' inauguration today marks another milestone in our journey."
Eurofins is the world leader in providing testing services to life sciences and other industries. In India, through Eurofins Advinus, it provides services to pharmaceutical and agrosciences companies for their R&D needs. "This new state of the art campus reaffirms Eurofins commitment to invest in India," said Neeraj Garg, Regional Director, Eurofins.
He further said, "We have identified Hyderabad, and in particular Genome Valley, as an attractive place to invest because of the ecosystem existing in the city, and the ease of doing business. We have been particularly impressed by the collaboration we have had with Telangana government to make this investment, and believe Hyderabad will be a strategic location for Eurofins in our global network."
Rajiv Malik, Director of Eurofins Advinus, further explained, "Hyderabad campus shall be expanded to become the showcase site for Eurofins in India, encompassing services across the complete pharma R&D value chain from discovery to development to GMP testing, both for small molecules and large molecules."
Hyderabad is regarded as the epicenter for drug discovery and development services in Asia, while Genome Valley is India's first organised cluster for life sciences R&D and clean manufacturing activities, with world-class infrastructure facilities in the form of industrial/ knowledge parks, special economic zones (SEZs), multi-tenanted dry and wet laboratories and incubation facilities.
Genome Valley which is home to more than 200 companies with a scientific workforce of about 25,000 professionals working for industry leaders in global and Indian pharmaceuticals. This investment by Eurofins Advinus has further reinforced the position of Hyderabad as a world class location for drug discovery.