Begin typing your search...
Infosys lowers guidance for FY24
Infosys pegs revenue growth guidance of 4-7% for FY24 as against 16-16.5% projection made during Q3 earnings announcement in Jan; IT major's net profit rises 7.8% to Rs6,128cr in Q4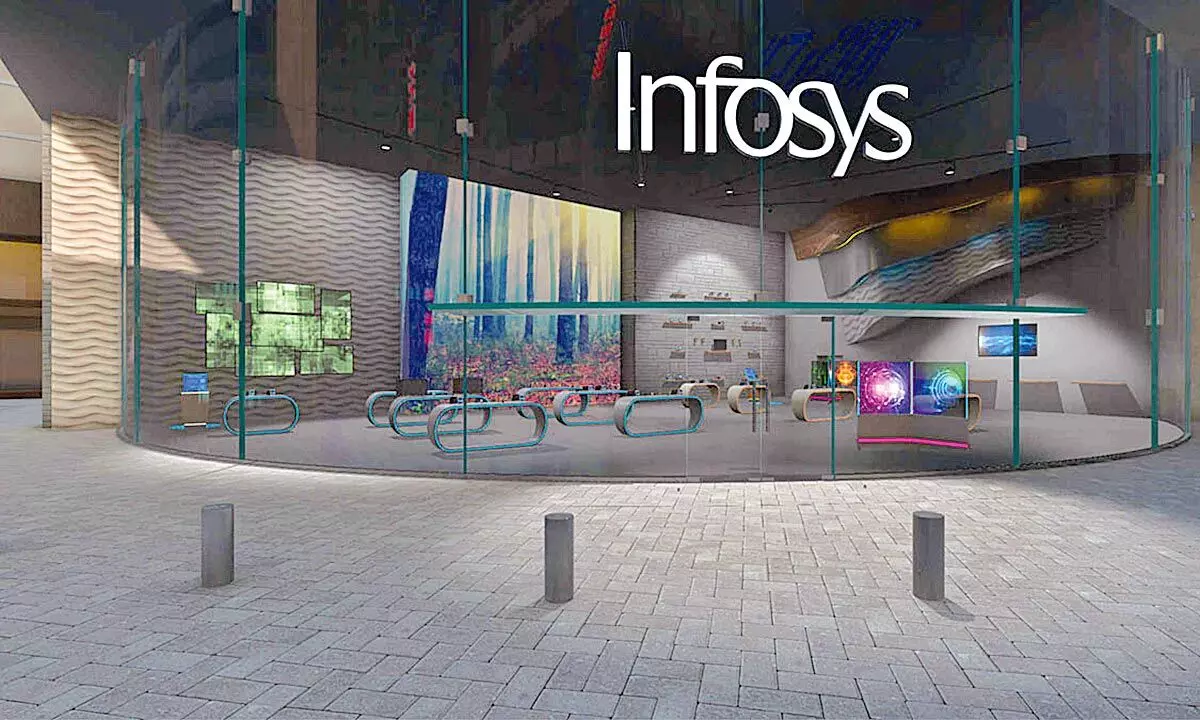 - Clients insist on higher efficiency
- Cost and consolidation opportunities rising
- It's resulting in a strong large deal pipeline
- Revenue guidance lowest in last 5 yrs
- Operating margin at 21% in FY23
- Margin contracted by 50bps in Q4
Bengaluru: IT major Infosys on Thursday posted a weak set of Q4 numbers with the revenue guidance for FY24 disappointing the street. For FY23, the company missed its earlier revenue guidance by a whisker, while operating margin came at the lower band of its guided range. One time revenue impact coupled with unplanned project ramp downs dragged Infosys' fourth quarter numbers, reflecting an uncertain demand environment going ahead.
The Bengaluru-headquartered company posted an eight per cent year-on-year (YoY) growth in its consolidated net profit in Q4 at Rs 6,128 crore. Its consolidated revenue for the period increased by 16 per cent to Rs37,441 crore. Revenue in dollar term stood at $4.55 billion, which was a fall of 3.2 per cent in constant currency compared to previous quarter. In contrast, TCS reported 0.6 per cent rise in revenue in constant currency (CC) term. For the whole fiscal, revenue came at $18.2 billion, a rise of 15.4 per cent in CC term. The company earlier projected its FY23 growth to be in 16-16.5 per cent range.
Given the uncertain demand environment, the company gave a conservative revenue growth guidance of 4-7 per cent for FY24, which was one of the lowest in the last five years. Operating margin is expected to be in the range of 20-22 per cent.
"During the quarter, we saw unplanned project ramp downs and delays in decision-making, which resulted into lower volumes. In addition, we have some one-time revenue impact. While we saw some signs of stabilization in March, the environment remains uncertain. Despite a strong deal pipeline, we are factoring in the uncertain economic environment, which is reflecting in our guidance," said CEO of Infosys, Salil Parekh.
According to the management, project ramp downs were seen in telecom, hi-tech, retail and financial services verticals in the fourth quarter.
The company reported an operating margin of 21 per cent for FY23, while margin contracted by 50 basis points sequentially during the fourth quarter.
"We are working on various cost optimization measures. For instance, changing the employee pyramid, subcon cost and utilization are some of the levers available to us," said Nilanjan Roy, Chief Financial Officer of Infosys.
Despite low volumes in Q4, deal pipeline of Infosys remained robust. It bagged TCVdeals worth $2.1 billion in Q4 while for FY23, the total deal wins were at $9.8 billion.
Among verticals, the banking crisis in the US and Europe took a toll on financial services vertical, which grew 0.4 per cent YoY basis. Communication was another vertical that witnessed a marginal growth of 0.3 per cent, while hi-tech grew 3.7 per cent.
Among geographies, growth in the US remained subdued at 6 per cent, while Europe grew 20.3 per cent over the previous year. In line with the market trend, Infosys continues to witness fall in its attrition, which fell a record 3.4 per cent at 20.9 per cent in Q4. The company saw a net reduction in its headcount by 3,611 employees in the fourth quarter, taking its total headcount to 3,43,234 by the end of FY23.
"We have many freshers on the bench and are getting trained. So, fresher hiring in FY24 will depend on the demand environment and project execution," said Nilanjan Roy, Chief Financial Officer of Infosys. Meanwhile, the company announced a final dividend of Rs 17.50 a share for the financial year ended March.
During the quarter, we saw unplanned project ramp downs and delays in decision-making, which resulted into lower volumes. In addition, we have some one-time revenue impact. While we saw some signs of stabilization in March, the environment remains uncertain
- Salil Parekh, Infosys CEO and MD