Begin typing your search...
India's mfg push likely to be a boon for IT cos
Tata, Adani, Mahindra, RIL, Vedanta and many global corporations are lining up huge investments to make India a manufacturing hub; Such investment if realised will spur demand for IT services & engineering services work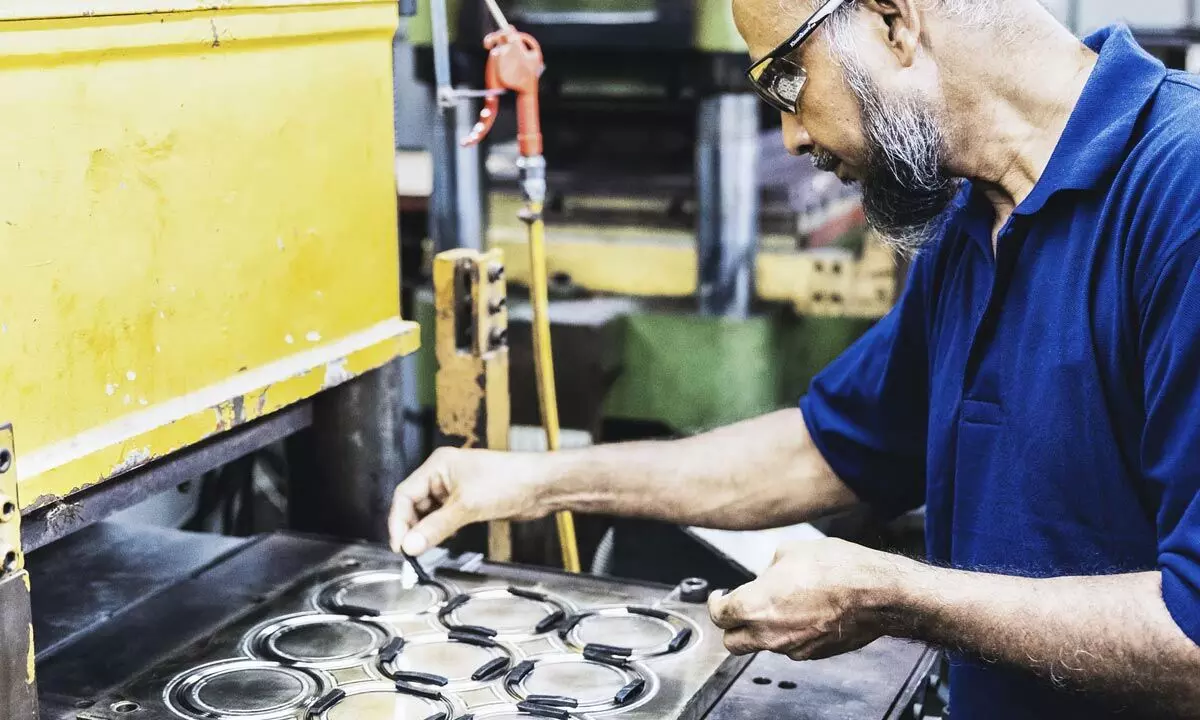 - For most IT firms, India's contribution less than 4% of total revenues
- After Covid-19, world preferring to reduce dependencies on China
- Tata Group's $90-bn plan includes making EVs, EV batteries, etc
- Foxconn and Vedanta setting up a $19-bn chip factory
- Mahindra Group lining up Rs10,000 cr investments
- Reliance Ind earmarked Rs5.9 lakh cr for in green energy
Bengaluru: India's focus on manufacturing sector with ambitious investment plans of various corporate houses is likely to benefit Indian IT services firms from next year. Industry experts in the know said that those IT firms with Indian focus like Tata Consultancy Services, HCL Tech, Wipro & Tech Mahindra among others will have a fast mover advantage.
"In 2023 and beyond, India as a market will gain importance as the focus on manufacturing sector is already leading to billions of dollar investment commitment from large corporates. These investments will eventually spur higher demand for both IT and engineering services," said Pareekh Jain, an IT outsourcing advisor & Founder of Pareekh Consulting.
"India as a geography is not big for most large and mid-tier IT firms. But it is likely to grow rapidly and many firms will reorient their strategies towards the domestic market," he added.
Post the Covid pandemic, the world is following a China+1 investment strategy to reduce their dependencies on China for manufactured goods. India is gaining attention of corporate houses as an alternate investment destination. Moreover, Indian government is trying to boost the manufacturing sector in its bid to reduce its import dependency on China apart from creating employment.
Tata Group has embarked upon an ambitious plan to invest up to $90 billion across their existing and new businesses in the next five years. Among new businesses, production of EVs (electric vehicles), EV batteries, renewable energy, semiconductor chips, and others are on Tata Group's radar. Sources in the know said apart from Tata group companies like TCS, Tata Elxsi; other companies are likely to get projects from such manufacturing push.
Similarly, Foxconn and Vedanta are planning to build a $19 billion chip factory in India. Mahindra Group is lining up investment worth Rs10,000 crore for EV manufacturing plant in Pune. Reliance Industries has earmarked Rs5.9 lakh crore for investment in green energy that includes solar PV module, electrolyzer, energy-storage battery and fuel cells among others. Similarly, Adani Group will invest over $150 billion across businesses ranging from green energy to data centres to airports and healthcare.
Apart from Indian conglomerates, Apple's largest plant is likely to come up in Karnataka. The company is slowly moving away from China to make India & Vietnam its key manufacturing hubs by 2025. India's renewed focus on defence and electronics manufacturing with participation of private players like L&T, Tata Group, Mahindra, Adani, Reliance and Kalyani Group is also likely to spur much software services work for Indian players.
"Both GCCs of global corporations and Indian IT firms will see more work coming in their ways owing to such manufacturing push. Traditionally, many Indian IT firms have not considered India as a key market, which is likely to change in coming years," said Jain. For most IT firms, India currently doesn't contribute more than 3-4 per cent of total revenues.