Begin typing your search...
Demand for pilots skyrocketing in India
India needs 31,000 pilots in next 20 yrs; Domestic civil aviation MRO mkt expected to grow to $4.33 bn by 2025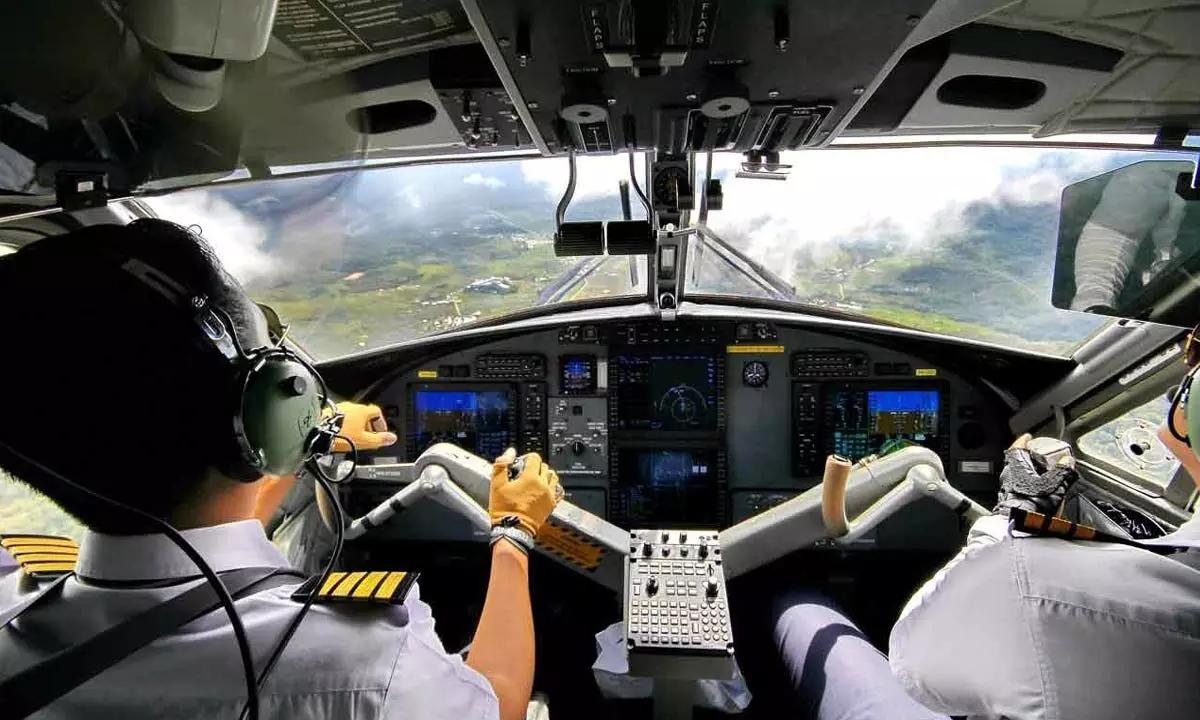 - Airlines expanding fleet to meet increasing demand
- Recently, Tata Group placed order for 370 planes
- However, major gaps in training infrastructure
- Exorbitantly overpriced courses not affordable now
- Cost of training must be rationalised
Mumbai: India is witnessing rapid growth in its aviation sector, with an ever-increasing demand for air travel. Experts says due to the rapid expansion of the aviation sector, the country needs 31,000 pilots over the next two decades.
As the Indian civil aviation MRO (maintenance, repair and overhaul) market is expected to grow to $4.33 billion by 2025, the sector will also require talent in other categories including technical area and cabin crew.
Recently, Tata Group has put in place various measures to turn around the fortunes of loss-making carrier Air India, including placing the largest order for 470 planes and expanding international operations.
Talking about Air India's hiring plans, Campbell Wilson, its Managing Director and CEO, recently said, "there is no target per se, but about 550 cabin crew members and 50 pilots are coming in and trained afresh every month."
Moreover, the Indian civil aviation industry has also experienced an increase in domestic traffic, according to a study conducted by PWC India in 2022. This demand, in turn, has led to a surge in the need for skilled pilots, creating a significant opportunity for pilot training infrastructure in the country.
Talking to Bizz Buzz, Urvi Jani, Founder and Managing Director, ThePilot.in, says: "While the demand for pilots is rising, the supply of trained pilots in India is currently insufficient, leading to a significant gap in the industry."
To make India a global hub for aviation, it is imperative to focus on creating an infrastructure that caters to the latest training methodologies and technologies and provides access to modern aircraft and simulators to ensure pilots receive the necessary practical training, she said.
Additionally, incorporating advanced technologies and virtual reality is also the need of the hour to elevate training systems and build a skilled pipeline. The course and concepts must be synchronized, developed, and monitored from an industry lens and ongoing trends, she added.
The cost of training must also be rationalised so that the trainees are not burdened by the exorbitantly overpriced courses and others who can't afford the course due to their economic background and limitations get an equal opportunity.
The competition landscape in the industry is evolving rapidly, with several players entering the market. Therefore, to stay ahead of the competition, it is crucial to develop a comprehensive strategy that addresses the supply-demand dynamics and caters to the evolving aviation industry needs. The aviation industry and the government must work together to address the challenges and take necessary steps to ensure the sustainable growth of this vital sector, an industry expert said.
While the demand for pilots is rising, the supply of trained pilots in India is currently insufficient, leading to a significant gap in the industry
- Urvi Jani, Founder and Managing Director, ThePilot.in, tells Bizz Buzz