Begin typing your search...
We don't see headwinds despite global economic uncertainty
We are excited about the kind of talent India has, says US-based OpenText's Chief Financial Officer Madhu Ranganathancompany is investing around Rs 200 cr to set up its own office infrastructure at Hyderabad, Khammam and Warangal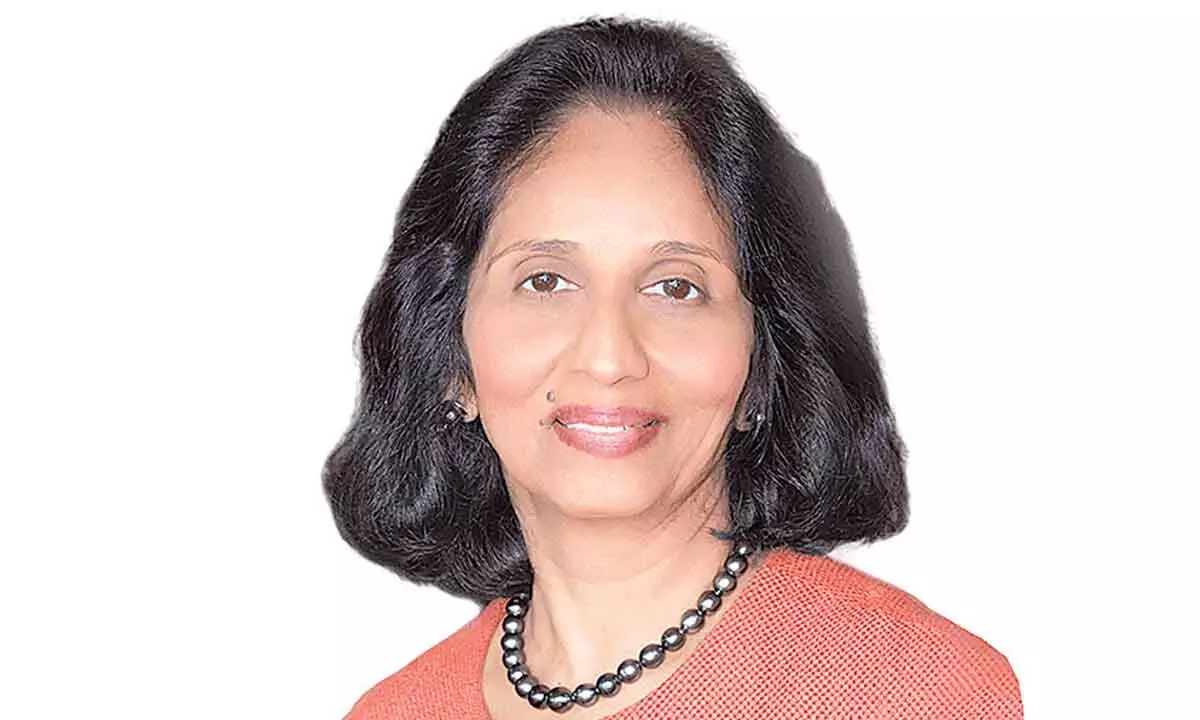 Women leaders are increasingly occupying the corner offices in the technology world. Indian women leaders are at the forefront of this movement. US-headquartered publicly listed IT firm OpenText's Chief Financial Officer Madhu Ranganathan is one such woman leader who drives company's growth during this critical period.
In a conversation with the Bizz Buzz, she said OpenText has two development centres in India- one in Bengaluru and other in Hyderabad and has 3,000 employees who drive the product development work for its global clients. The company is looking at increasing its headcount by 20-30 per cent in coming years given the importance of Indian centres.
The CFO of OpenText also said that the company doesn't see much growth headwinds despite the global economic uncertainty as it operates in a fairly large market and serves clients with mission-critical projects. Ranganathan also said that the company has not faced much attrition unlike many others in the industry. She emphasized that employees will take all factors into account before joining a company given the recent layoffs in the startup world
We have seen many women leaders taking management positions in technology world. How do you see this space evolving?
Just to give a little background about myself, I was born in Chennai. I did my Chartered Accountant from India and MBA from the US. I have spent most of my career in technology sector. In OpenText, we are promoting the women leadership very actively.
We run several internship programmes for creating a good pipeline of leaders. In India, we have 3,000 employees involved in cloud engineering, product management, and many more operations. Several women employees are actively involved in the growth story.
The IT industry in India is facing a lot of challenge in terms of retaining talent due to high attrition levels. One of the factors that has been seen is that many women employees are keen to WFH (work from home) or hybrid operating environment. Will you throw some light into this aspect?
After the pandemic hit, technology has enabled us to work remotely without any drop in productivity. However, as things normalise, we want to work together. But, flexibility sits at the core of this operating model. We have rolled out flexi-operating model for our employees.
The core of this issue is that we can stay at home but we can be very productive. Similarly, for driving innovation, we are meeting virtually. As innovation is very important for the technology industry, it is critical to operate together in a flexible operating environment.
Salary discrimination is another phenomenon we come across in case of women employees in technology industry. How do view this problem and how to solve it?
Salary discrepancy is there mostly because of legacy factors. However, there are many things which companies are doing to overcome this issue. For instance, as a company, we are driven by data, which is only driving factor for compensation.
There is also an increasing level of awareness seen in this matter and companies are getting very data-driven. What I am saying is that companies are doing it because this is right and not because some governments want it or due to some political factors. We do it because it is right.
How big is OpenText's team in India? How has the journey so far?
We started our operations in 2009 and we have a very robust team in India. We have 3,000 employees in India and I am personally here because we have a big plan to expand our operations here. We have two development centres, one is in Hyderabad and another one is in Bengaluru. Our team members in India are developing products for the global market. We also run a very robust internship programme and about 100 interns are inducted every six month. We have R&D programme with ISB, Hyderabad and IIT, Hyderabad.
We have plans to conduct more such projects across top universities in India. We are a $3.5 billion revenue company globally with an employee base of 15,000 people. As India is home to 20 per cent of our employees, it is a very important place for OpenText. India is a strategic, innovative centre and not just a process-oriented centre. These teams serve our customers across the globe.
As far reskilling is concerned, we are very aggressive on reskilling front. As we are a cloud-based company, we focus on reskilling, upskilling and cross-skilling of all our employees. As far as plans for expansion is concerned, we are planning to increase our headcount by 20-30 per cent in coming years. We have a lot of cloud-based development and customer demand that will have India footprint. We are excited about the kind of talent India has.
How do you see the demand environment in the global IT industry? Are enterprises looking at cost optimisation moves in the wake up slowdown fears?
The good thing about OpenText is that it operates in a universe where the market size is very large. We provide very mission-critical services to enterprises. Therefore, we are very resilient. As we operate in a very large market providing mission-critical services, we see growth.
In OpenText, we are very much focussed on profitable growth. So, though there will be some tightening and reacting to the market, we will ensure smart investment fostering innovation.
How do you see the overall supply environment in terms of talent in coming months? Do you see it easing in the Indian IT industry?
Global technology industry has a roller-coaster ride in the last 24 months. As a company, we did have attrition but we did better than industry. We have a great culture inside the company. Going ahead, people will take all kinds of things into account about a company before working for it.
Be it corporate culture, transparency, sustainable business model, return to office, reskilling; employees will ask all kinds of questions. In OpenText, though we are a publicly-listed company, we look for a startup kind of mentality.