Begin typing your search...
Upskilling a priority for tech students professionals looking for new opportunities
Online upskilling platforms addressing skill gap in freshers through project-based hands-on pedagogy for higher rate of job readiness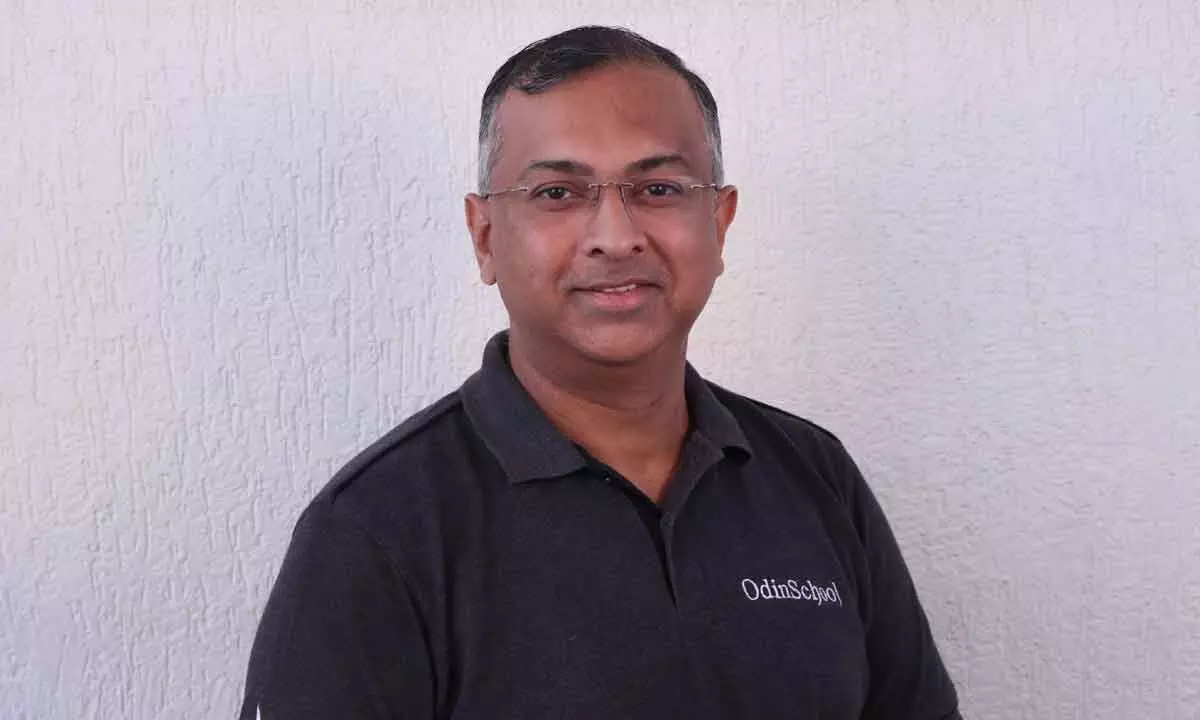 There is a high demand for upskilling courses and institutes, especially with new and emerging technologies disrupting the industry. Startups and edupreneurs are leveraging technology to build scalable skilling platforms so as to address the existing skill gap in the Indian industry. One of these online upskilling platforms is Hyderabad-based OdinSchool, specialising in high-growth technologies. Bootcamps delivered by OdinSchool target the highest state of job readiness through a project-based hands-on pedagogy, up-to-date curricula, holistic career services, and dedicated placement assistance. In conversation with Bizz Buzz, the Founder and CEO of OdinSchool, Vijay Pasupulati says, "On one side we have graduates who do not have the right skills to obtain good jobs, while on the other side, companies are struggling to hire talent with the right skills. This skill gap needs to be addressed on urgency." A former Vice President at Goldman Sachs in New York, Vijay discovered his love for edupreneurship when he relocated to India in 2008. After founding startups, Winzest and GreyCampus, he launched OdinSchool in May 2021. Pasupulati holds an MBA in Finance and Information Systems from the New York University Stern School of Business, and a B Tech from NIT, Warangal
How different is OdinSchool from other upskilling platforms?
Our country, now being the largest in the world by population, needs to address the skill gap to take advantage of the large young population. OdinSchool addresses this growing need through structured and guided skilling bootcamps, while providing companies with a source of skilled talent. We address the cutting-edge technology skills which many traditional skilling companies do not. While we are headquartered in Hyderabad, we serve learners all across India and even from outside India through our online courses. We believe we need many more upskilling companies like OdinSchool for a large country like India.
Which are the courses provided?
We started with Data Science Bootcamp as our flagship programme. Now, we also provide Full Stack Software Developer Bootcamp. Our bootcamps are six – month long and very sharply aligned to the in-demand skills of the industry. They are designed to have the right amount of rigour needed to learn and practice these hard tech skills.
Could you give us details about your learner base?
We upskill both freshers and professionals. In fact, early working professionals having between one and five years of experience and looking to grow or transition their careers into emerging tech form the majority of our learner base. Currently, we have more than 2,000 learners on our platform. We start a new cohort with 400 to 500 learners every month. We work with over a hundred mentors and have over 500 hiring partners.
What is the fee structure? And, how do students benefit after paying this amount?
Currently, our Data Science Bootcamp is priced at Rs 99,000 and the Full Stack Software Development course is priced at Rs 85,000. We give scholarships up to Rs 30,000 based on a test for both the bootcamps. To make it easier for learners, we provide zero-interest loans in association with various credit partners. The fee that students pay is an investment for their future, rather than an expense. Most of our learners get a job with a package ranging between Rs 5 lakh and Rs 30 lakh, per annum. So, they have a very strong opportunity of getting a five times to a 20x return on the fee they pay, within 12 months. This is just the short-term benefit. The bigger benefit is that this course is designed to give learners a break into the growing field of Data Science. Once they get a break, irrespective of the package they receive, their growth over the next few years is going to be tremendous. So, technically, they keep reaping the benefits of this investment all their life.
What is OdinSchools's business model and the current financial status?
Our services are built to cater to two sectors of clientele, first, the learners who wish to upskill for better careers and, secondly, the corporates who are always looking out for quality talent. Our business model is built on the learner segment. Our revenue comes from the fee that learners pay for the course. We do not charge anything from the corporate to hire our students. We have been a rapidly growing company with revenues increasing consistently since inception.
Any plans lined up for the year?
Yes, we do have lots of expansion plans. We would be happy to share this information at a later, more appropriate time.
How much industry ready are students and what are colleges doing for better recruitment percent?
The industry is changing at a very fast pace. In fact, technologies are going in and out of vogue every six months. It is difficult for colleges to revise their curriculum frequently and be agile under the present education system. So, students are not industry-ready unless they upskill on the latest technologies. Some colleges do conduct short-term programmes. However, most of these are conceptual in nature. The industry needs the talent to come up with hands-on practice, which is lacking in most cases.
Which field in engineering can be considered a safe haven for graduates in the future?
Emerging tech like data science, AI, ML, IoT, blockchain, full stack development and cybersecurity are some of the fields that will remain strong. However, this emerging tech will also go through a lot of transformations. New tools will emerge within these areas. Technology will get diversified into more specialised areas. So, nothing is a safe haven if graduates or early professionals do not continue to learn and upgrade their skills.
With all the talk around Artificial Intelligence, does it mean fewer job opportunities?
The adoption of AI will change the nature of jobs. Going forward, jobs that do not require high degree of human judgment, emotional intelligence, decision making and strategy might be taken over by AI. However, here it is important to note that AI is not competing with humans for jobs; rather, it is to be used as a tool to make human work more efficient and productive. So, learners need to learn how to adopt these technologies for the jobs that they perform, be it analytics, software development, marketing or just about any other field.
Are students educated from Tier I colleges at benefit over others?
Colleges with better facilities and faculty are definitely better at giving students a holistic education. However, the good thing is that in today's tech-enabled world, a student is not restricted to what is available in the college alone. They should explore the world outside the college premises. With plenty of information, learning resources and online educational platforms available, they can take up high-quality courses and bridge the skill gap. They can also collaborate with others from different parts of the country and the world on projects. So, there is a lot of scope for learning and growth, irrespective of the college where they study.
How is the market for upskilling in India?
Upskilling is the most relevant as well as the most important aspect of today's tech world because technology is evolving very fast. A report by NASSCOM says that around 80 per cent of the Indian workforce will need upskilling in order to remain employable. Companies have also increased their training and upskilling budgets because it increases productivity. Moreover, upskilling has become accessible today because of online courses and edtech companies like ours.
What is the skilling and hiring trend seen among women?
Between Data Science and Full Stack, we see more women from different backgrounds opting for Data Science over Full Stack. This trend is seen more in women who are looking to re-enter the workforce after a break. Every cohort has around 40 per cent women learners. We would love to see this number go up and encourage more women to take up careers in these emerging areas. Many companies have come up with initiatives to encourage more women who were on a break from careers for personal reasons to return to work. So, women with a career gap have a great chance to come back to work provided they upskill themselves.
For whom would upskilling be a saviour during the current layoff cycle?
Upskilling is a saviour for everyone, irrespective of which kind of job they hold, especially during layoffs. Professionals who will be laid off will probably be the ones whose contribution to the company is the least, which in turn means that their skill sets are not aligned with what the industry needs. However, despite talks about global recession, what is important to remember is that the layoff season is a short-term phenomenon. The industry worldwide will stabilise in about two quarters and thousands of jobs will open up. When they do, professionals who are ready with updated skill sets will get hired.