Begin typing your search...
Square Insurance Brokers aims to bridge the insurance gap for individuals and businesses
The Jaipur-based company offer several options to more than 2,000 business clients and over 1,000 plan comparisons. Over 300 experienced people run their operations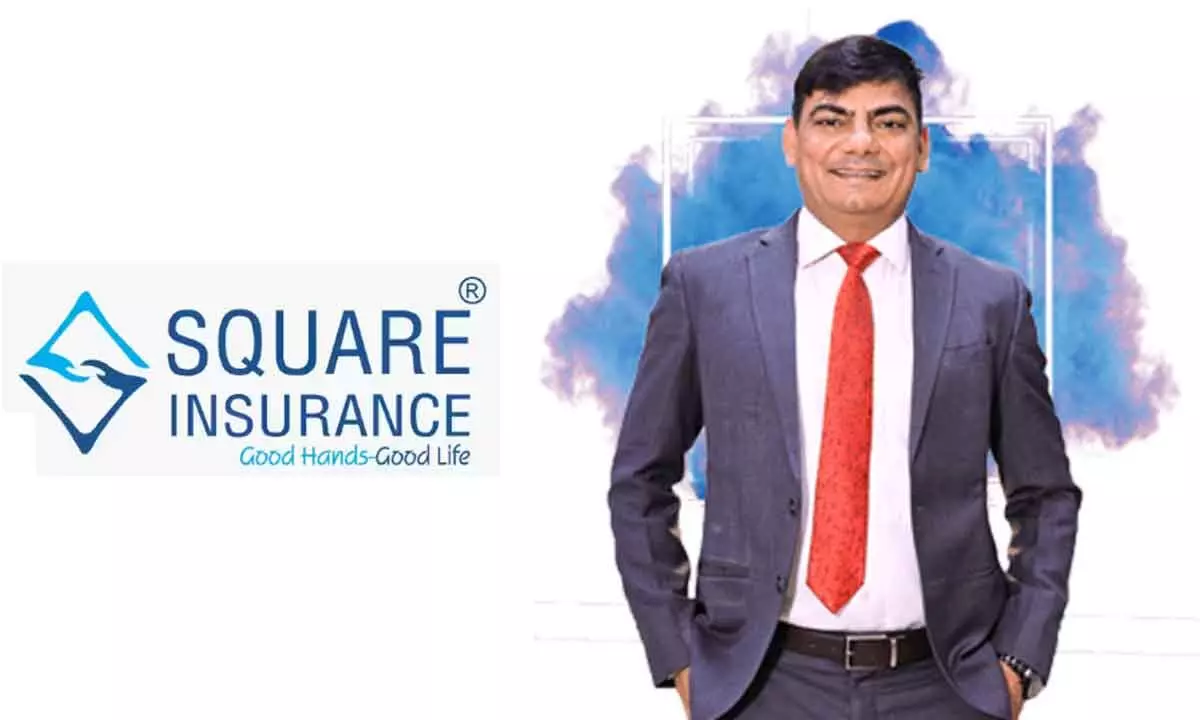 Jaipur-headquartered Square Insurance Brokers Private Limited stands as one of the fastest-growing insurance broking companies in the industry. They hold the distinction of being a Direct Broker (Life & General) under IRDA Regulations, and boasts a PAN India presence, serving clients across the nation. It promises unmatched service, setting it apart from the competitors. Client cooperation, creativity, integrity, accountability, and communication underpin their insurance intermediation methodology. Several important factors make them distinctive. They offer several options to over 2,000 business clients and over 1,000 plan comparisons. Over 300 experienced people run their operations. It also promises to guarantee fast processing with a self-integrated, cutting-edge IT infrastructure. A network of over 15,000 POSP agents ensures accessibility. A team of skilled, experienced individuals provides unbiased assistance 24/7/365 in customer support. Speaking to Bizz Buzz exclusively, Rakesh Kumar, Founder, Square Insurance Brokers Pvt Ltd, explains why and how are they different in this highly competitive marketplace
Square Insurance is a direct broker - under general and life category, right? So what do you do exactly? And what is your mission like?

Yes, the company obtained Direct Broker (General) License in June 2017 and further expanded its services by obtaining the Direct Broker (Life & General) License in November 2020 from IRDA. Our commitment lies in crafting insurance solutions that not only offer top-notch protection but also feature competitive pricing. Square Insurance Brokers Private Limited is dedicated to forging and nurturing enduring relationships with their clients, employees, and underwriters. Their vision revolves around shared growth, aiming for a steady and sustainable trajectory. The measure of success for Square Insurance Brokers is the trust their clients place in them, choosing their services because of the firm belief that they will consistently meet or surpass expectations in terms of price, service quality, and claims disbursements.
Our mission extends to the meticulous training and development of a highly skilled team of insurance consultants who stand out in the market. These consultants are equipped with a profound insurance background, extensive knowledge, unwavering ethics, and an unyielding commitment to insurance integrity. Their paramount focus rests on nurturing and safeguarding the invaluable assets of "Customer Trust" and Company's Credibility.
So what is the vision with which you floated this company?
In our pursuit of elevating the role of insurance broking beyond a mere sales channel, Square Insurance Brokers Private Limited acknowledges the weight of responsibility that accompanies the company's mission. They wholeheartedly embrace the challenges and are prepared to tread the rugged paths of innovation. Our vision extends beyond the conventional boundaries of insurance, aiming to bring insurance solutions to individuals and companies that have remained outside the insurance paradigm. Our determination lead us to venture into untapped retail and corporate markets, offering the convenience of online issuance, swift renewals, a digital policy locker, and above all, a personalized servicing experience. This endeavour represents an unprecedented fusion of information technology and personalized service, with the ultimate goal of becoming the most highly recommended Insurance broker in India.
Loosely, people often use the terms 'broker' and 'agent' interchangeably. What is the difference between broker and agent?
In the realm of insurance services, a clear distinction exists between brokers and agents. A broker serves as a representative for multiple insurance companies, offering access to a diverse range of products from different insurers. This enables clients to make informed decisions through comprehensive product comparisons and unbiased recommendations that prioritize their best interests. Brokers boast skilled and experienced teams dedicated to providing top-notch guidance and support directly to customers, ensuring accountability for mandated services.
In contrast, an agent exclusively represents a single insurance company, limiting clients to the products offered by that specific insurer. While agents may have varying degrees of expertise, their recommendations tend to be influenced by their company's interests. Back-office support for quality assistance may not always align with the broker's system. In the case of agents, the accountability lies with the insurance company they represent, emphasizing the importance of understanding the differences when seeking insurance advice and services.
How do you stand out or propose to stand out in the highly competitive marketplace?
Square Insurance Brokers Private Limited sets itself apart from other insurance intermediaries with its distinct attitude and approach. They are known for their unwavering commitment to delivering exceptional services, guided by their core values of client partnership, innovation, integrity, accountability, and communication. What truly distinguishes them is a combination of factors that includes a vast client base of over 2000 corporate clients, access to over 1000 plan comparisons, and a dedicated team of over 300 professionals. Their self-integrated, high-tech IT platform ensures swift processing, and they boast a vast network of 15,000 POSP agents. Offering round-the-clock, 24/7/365 customer support, Square Insurance Brokers provides unbiased advice through an experienced and skilled team. Their services extend to renewal support, emphasizing transparency, reliability, and privacy. With an advanced and user-friendly mobile app, they excel in policy customization and effective solutions, all backed by robust data analysis. With a PAN India presence and a team of experts for risk analysis and evaluation, Square Insurance Brokers Private Limited consistently exceeds client expectations.
We have also strategically diversified its distribution channels to effectively connect with a wide range of customers. These channels include OEM partnerships, where they serve as a motor insurance service provider, offering specialized services. They also engage in direct client interface, fostering personal connections. Square Insurance Brokers has a network of Point of Sale Persons (POSP) across the country, ensuring accessibility to insurance solutions.
What are the distinctly unique insurance products that you offer?
• Fidelity guarantee insurance (FGI) exists to safeguard your firm or organisation against theft of the firm's own money, securities or property by an employee, partner, contractor or volunteer. FGI can also be known as first-party fraud, theft or employee dishonesty cover.
• Marine Insurance - Marine insurance covers the physical loss or damage of ships, cargo, terminals, and any transport by which the property is transferred, acquired, or held between the points of origin and the final destination.
• Cyber Crime Insurance - Cyber insurance, also called cyber liability insurance or cybersecurity insurance, is a contract an entity can purchase to help reduce the financial risks associated with doing business online. In exchange for a monthly or quarterly fee, the insurance policy transfers some of the risks to the insurer.
• Liability - Liability insurance is a part of the general insurance system of risk financing to protect the purchaser from the risks of liabilities imposed by lawsuits and similar claims and protects the insured if the purchaser is sued for claims that come within the coverage of the insurance policy.
• EAR and Car Insurance - Construction All Risks (CAR) and Erection All Risks (EAR) policies provide important protection for inherently hazardous construction work. Although CAR and EAR insurance policies are often considered to be interchangeable, there are significant differences between them.
How important is technology in your case?
Technology is a key driver in our case. Actually, technology is the key of Insurance sector for evolution and overall growth. Square Insurance Brokers Private Limited has its self-integrated high tech IT Platform for faster and smooth processing and have both ISNP Channel.
What are the value added services you offer?
The services offered by Square Insurance Brokers Pvt Ltd encompass a comprehensive policy audit, which includes the identification of the client's risk profile, assessment of coverage adequacy, and tailored product recommendations to address specific needs. Our commitment to risk management extends to conducting thorough occupancy surveys, accompanied by housekeeping and safety advice. In the event of a claim, we provide invaluable support, including risk inspection and improvement services. This encompasses pre-insurance inspections, valuation assessments, and expert assistance with claim intimation and submission, as well as diligent follow-up on queries and compliance matters. Moreover, our claim consultancy services are designed to expedite claims, resolve repudiated claims, address issues with underpaid claims, and handle grievances, RTI, and IRDA matters. Square Insurance Brokers is also well-equipped to assist clients in engaging with Ombudsman and Consumer Forums, along with providing access to various other resources for comprehensive insurance support.