Begin typing your search...
Municipal solid waste management industry to cross Rs 115 bn by 2025
Higher urbanisation to drive per capita waste generation in India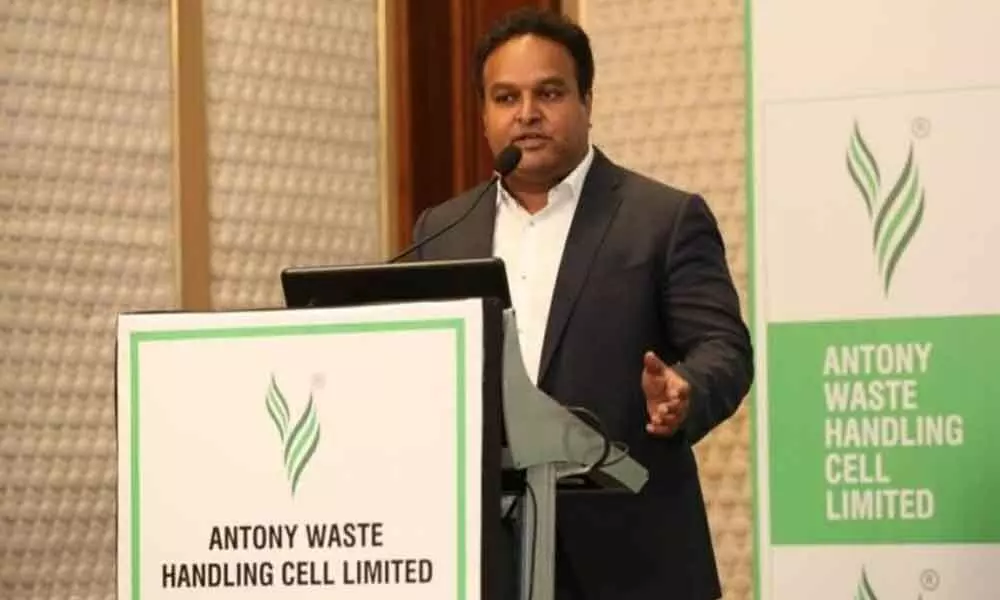 Antony Waste Handling Cell Limited, the second-largest player in the Indian municipal solid waste (MSW) management industry pegged at Rs 5,000 crore for FY2020 entered the capital market through its IPO on December 21. The public issue closes on December 23 with equity shares of face value of Rs 5 each for cash at a price band of Rs 313 per equity share to Rs 315 per equity share. "Indian municipal solid waste management industry is expected to double over the next five years," says Jose Jacob Kallarakal, Chairman and Managing Director, Antony Waste Handling Cell Private Limited, in an exclusive interview to Bizz Buzz
What is the size of Indian waste management industry at present?
The Indian waste management industry is still in its nascent stage. It is currently estimated to be at Rs 0.05 trillion or Rs 5,000 crore, when compared to the global size of Rs 23 trillion. Moreover, the India per capita waste generation lags the world average. However, the good thing is that India's waste collection efficiency is expected to be around 85-90 per cent. Increasing population with higher urbanisation would drive higher per capita waste generation in India. The Swachh Bharat Mission will prove to be a strong driver of growth. We intend to capitalise on the growth opportunities in the MSW management sector by continued focus on bidding for MSW projects.
How do you see the future of the Indian waste management industry?
The Indian municipal solid waste management industry is expected to double over the next five years. The industry, with a size of Rs 75 billion at present, is all set to go up to Rs 115 billion by 2025 as it is currently growing at a CAGR (compound annual growth rate) of 14.4 per cent.
Despite the Swachh Bharat Mission and various initiatives by the government, the municipal solid waste management industry has not achieved its required growth!
In fact, there is progress in the segment lately. Many municipal corporations in the country are in the process of taking up waste handling projects and set up a full spectrum of municipal solid waste (MSW) projects i.e. solid waste collection, processing, transportation and its disposal. We are set to cash in on these projects as the company's key business operations include MSW C&T, MSW processing and mechanized sweeping project.
The company has a portfolio of 18 ongoing projects as of November 15, which comprises 12 MSW collection and transportation (C&T) projects, two MSW processing projects and four mechanised sweeping projects. The Municipal Corporation of Greater Mumbai, the Navi Mumbai Municipal Corporation, the Thane Municipal Corporation, Pimpri Chinchwad Municipal Corporation, the North Delhi Municipal Corporation, the Mangaluru Municipal Corporation, New Okhla Industrial Development Authority, Nagpur Municipal Corporation and the Greater Noida Industrial Development Authority are among the 18 projects that the company handles.
How many serious players are there in this space?
There are no listed peers of the company. In the unlisted space, the major market participants range from large domestic and multinational environmental firms such as Ramky Enviro to small and medium enterprises (SMEs) such as Vermigold Ecotech.
There are very few companies with expertise in landfill construction and management. Antony Waste is among the leading players in this sector with an in-house expertise in landfill construction and management. Let me tell you that only 25-30 per cent of the municipal solid waste generated in the country is processed. They include Ramky, BVG (Bharat Vikas Group) and Zee group. Serious players, who have got the capacity to handle waste management of 400-500 tonnes per year, are merely five to six in number. Mumbai alone generates 9,000 tonnes of waste per annum.
Why is the issue size increased?
The offer consists of a fresh issue of Rs 85 crore and an offer for sale of 68,24,933 equity shares by existing shareholders.
Where will the funds be deployed?
The company will utilise the fresh issue proceeds for part-financing its waste-to-energy project at Pimpri Chinchwad through investment in its subsidiaries; reduction of consolidated borrowings; and general corporate purposes, while the offer for sale money will go to selling shareholders Leeds (Mauritius), Tonbridge (Mauritius), Cambridge (Mauritius) and Guildford (Mauritius).
We are looking to reduce the consolidated borrowings of the company and its subsidiaries by infusing debt in its subsidiary AG Enviro for repayment or prepayment of portion of their outstanding indebtedness.
Do you think you will be second time lucky with the IPO?
Antony Waste Handling Cell aims to raise Rs 298.62 crore at the lower price band and Rs 299.98 crore at the upper price band. The company garnered Rs 90 crore from anchor investors on December 18. These investors are top global and domestic funds and have shown faith in the company's growth story.
We have strong fundamentals and it is a strong growth story and we expect that the investors will respond positively as our numbers have improved over the years. Despite the pandemic and lockdown, we have done well. The company reported a 79 per cent year-on-year growth in consolidated profit at Rs 62.07 crore in FY20 on revenue of Rs 450.51 crore that grew by 58.8 per cent year-on-year. In the first half of FY21, the company posted a profit at Rs 29.05 crore on revenue of Rs 207.39 crore.
What is the tenure of the contracts for carrying and transportation and waste processing?
These are long-term contracts and range between seven and eight years. We have established a track record of more than 19 years in executing the solid waste projects. Scale of operations, diversified geographic presence, vertical integration and strong position in the MSW management sector enable it to identify and win new contracts.
The company has consistently invested in its fleet of vehicles. As of November 15, it owns a fleet of 1,147 vehicles, of which 969 are equipped with GPS technology, which allows to operate its projects efficiently.