Begin typing your search...
In films, it is important to portray things from perspective of a local
Well made, quality cinemas have the potential to draw and bring in more people for having true first hand experiences and it has got tremendous tourism values as well, says Italian filmmaker Italo Spinelli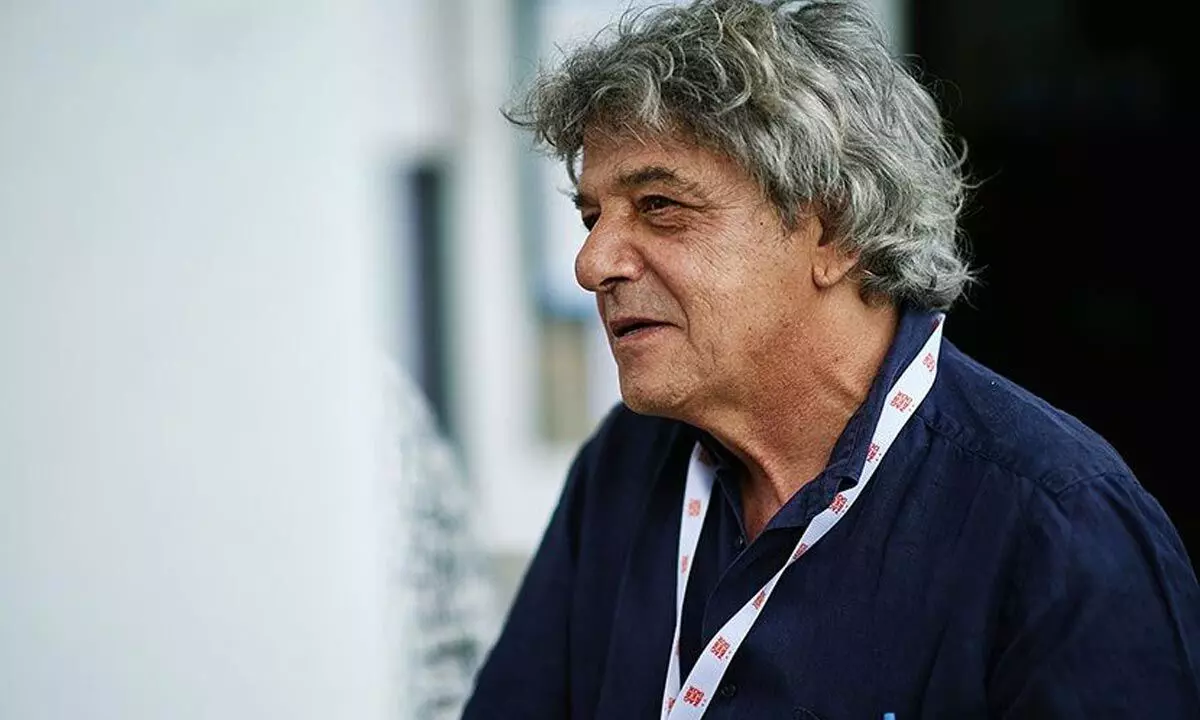 He firmly believes that any quality cinema has the potential to take art, culture, literature, architecture and social fabrics of a nation to a much larger audience across the world and thereby has enormous scope to develop tourism. He also thinks that it is important to portray things from the perspective of a local and not from an outsider.
Internationally acclaimed and award winning Italian filmmaker Italo Spinelli, known for Gangor (2010), Roma-Paris-Barcelona (1989), Corsica (1991), Danzando in Cambogia and Terre d'Islam, is always fascinated by the vigour and vitality of Kolkata and keeps coming back to the city of his love in search of stories. Speaking to Bizz Buzz exclusively, author, script-writer, actor and film director, Italo Spinalli hints at coming up with yet another rare celluloid experience, this time based on a Jhumpa Lahiri story.
Gangor has been one of the most widely acclaimed film that you have made so far. Why did you pick up this Bengali short story written by the Bengali author Mahasweta Devi to make the film? Any special reasons?

See, I have been making films for over 25 years now. Most of them have been documentaries or docu-features. I had always been fascinated by Kolkata and India. I never liked the way the Western World had looked at or portrayed Kolkata or India. I was always looking for a story that I could immediately relate to or identify with. When I had first read the seven page short story- "Chole ke peechhe" by Mahasweta Devi, I was so intrigued, the thought and idea of making my first feature film on the basis of this story had come to my mind almost instantly.
It tells the story of Upin, a veteran photo-journalist who comes to Puruilia in West Bengal to report on the violence against the poor tribal women in the impoverished region. There he comes across Gangor breast-feeding her child. He photographs her using one of the pictures for his snews report. The picture triggers a backlash as she is shunned by the villagers. The policemen take her forcibly to the police station and gang rape her. Upin realizes his folly and haunted by the hushed-up violence travels back to Purulia to look for her. Gangor is no longer there and no one has her whereabouts. Determined to find her out Upin presses on his search and one night meets her, who has now become a prostitute. Gangor asks him to photograph her again taking off her blouse to reveals how her body was mutilated by the policemen during gang-rape. Upin runs away from her falling on the railway track and comes under the wheels of train. As the incident comes to the attention of media, Gangor's case reaches court. On the day of the hearing of her case, a group of tribal women led by activist Medha take off their blouses on the court premises to mark their protest against the police brutality.
Subsequently, I met Mahasweta Devi and eventually took forward my idea and dream of making a film based on that story from there. Mind you that I had always wanted to portray Kolkata, Bengal or India from the perspectives of a local and not from the typical Western viewpoint.
Gangor was made in 2010 and it won several international awards including the best film, best director, best actor and best actress awards at the New Jersey Independent South Asian film festival, the NETPAC Jury award at the 10th Third Eye Asian Film Festival 2011, the top award named after Filipino director Lino Brocka at the 13th Cinemanila International Film Festival in Philippine and so on. Since then have you ever thought of or worked on any other Bengali or Indian story to make film?

I have been working with authors like Amitava Ghosh, Amit Chaudhuri and Jhumpa Lahiri for quite some time now. I am very hopeful about doing some project with Jhumpa Lahiri. Maybe, something will mature and get concretised very soon. Let's hope for the best.
How different was the experience of making a feature film from that of a documentary or docu-feature?

I have made more than 20 documentaries on India. And I can tell you that the experience of making a feature film has been completely different from the rest. Kolkata has all along been the cultural capital of India with a large repertoire of art, culture, literature. And making a film on one of the rare pieces and precious asset from this repertoire, being true to the story and the author was not an easy task.
You have already made a film based on a Bengali story and said that you would again like to make more films on the basis of other stories from Bengal. Why is it that you always come back to Kolkata and look for some stories, some scripts, some imageries…
There is something which you only get in Kolkata. I do not know exactly what it is, but it is only there in Kolkata. I always feel that these art, culture, literature, architectural marvels, food (culinary delicacies), the people, the energy, the vitality, the indomitable spirit - all of them need to be taken to the world. And since my medium is film, I want to do it by way of film making. You can actually take these brighter sides, the positive aspects to a much larger audience through films. Well made, quality cinemas have the potential to draw and bring in more people for having true first hand experiences and it has got tremendous tourism values as well. The city needs to be proud of what it has and what it offers.
See, this time round I have come here as a jury at the Kolkata International Film Festival, which is one of the finest film festivals across the world, if you ask me. People often judge and assess the success of this film festival, pointing out to what's happening inside various halls. But I say, look at what's happening outside. The real show is not happening inside some halls (theatres), but it is happening outside. Nowhere you will get to see such enthusiasm, excitement, such heightened discussions, critical appraisal, such high level of understanding of the good films.