Begin typing your search...
How 'Trash to Treasure' spinning a fortune out of plastic garbage
17-yr-old Aditya Banger's Trash to Treasure recycles 10 tonnes of plastic waste and 5 tonnes of industrial waste to produce 15 tonne fibre yarn per day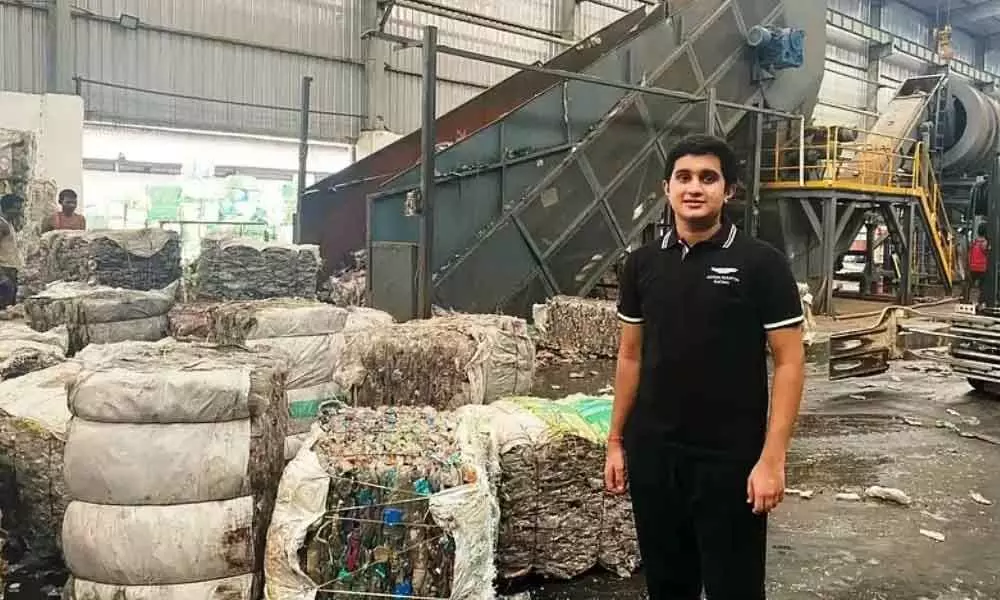 A 17-year-old guy from Bhilwara district in Rajasthan is doing a remarkable job in reducing plastic waste and contributing towards sustainability. A trip to China has completely changed him and made him an entrepreneur, who employs over a hundred people now. Hailing from a family that runs a textile business, he went to the next level of making polyester fabrics.
Without a professional degree and technical expertise, he ventured into a business that manufactures cloth using plastic garbage – a process which was almost new to the country. Aditya Banger, Founder of Trash to Treasure, tells Bizz Buzz how he is continuously trying to improve the environment by seeking plastic waste from the general public
Tell me about your education and family background. Did you undergo any training before starting this business?
At present, I am studying Grade-12 in Mayo College at Ajmer, Rajasthan. Our family is running a textile manufacturing business called Kanchan India Limited. I am always interested in business management, but I didn't get any formal training in this technology. I had a lot of hands-on knowledge from my past experience.
What's the trigger behind the idea? How did this concept of turning plastic waste to fabric come to your mind? Are you inspired by someone in your vicinity?
When I was in Grade-10, I went on a trip to China with my uncle to attend a textile fair where I saw this technology first. Later, I studied about it thoroughly and a lot of global brands were already using it. However, the technology was new to our country by then. So, I looked into it and proposed a plan to our parents. The journey of 'Trash to Treasure' started in this way.
What is the initial investment for the project?
The initial investment for land and machinery was around Rs18 crore. The machinery was imported from China. The manufacturing plant recycles 10 tonnes of plastic waste and 4-5 tonnes of industrial waste to produce 15 tonne fibre yarn per day. A contract was made with Kanchan India to fund us and we supply 80 per cent of our produce to them as per the agreement.
In how many stages, the trash will be turned into fabric? Can you explain the process?
The used bottles made of polyethylene terephthalate (PET) are used to make fibre in just around 8-9 steps. After collection of PET waste, the bales are cleaned thoroughly for dry dust. It is manually sorted according to their plastic grade. Then, the labels and stickers are removed and again manually sorted to crush them in an industrial grinder.
After crushing, the usable PET settles down in water as it is heavier in weight from other plastics. In the process, anything other than PET is contaminated item for us. The small PET flakes are washed by chemicals and hot water to remove impurities. In the next stage, drying and melting of flakes at around 250-260 degree celsius to be drawn into polyester filament.
In further stages, the melted plastic is drawn out into small strands by applying heat and pressure on it. After cooling, it is stretched out with the help of steam (drawing line). This is where our process ends and then our parent company spins the recycled fibre into yarn and weaves the spun yarn through industrial machinery to make finished fabric.
What is the team size at present? What are the plans ahead to increase the manpower?
We work in two shifts and we have 60-65 employees in each shift. With around 120 employees, we have started about eight months from now. As we have enough staff now, we will consider increasing the headcount later.
What are the expansion plans? Are you looking to raise funds from the investors?
Definitely, we would love to expand our operations to other cities. We have received funding offers from some big companies. We would try considering them very soon.
Have you received any support from any government?
When we were in Hyderabad, we had a word with Telangana Municipal Administration and Urban Development (MAUD) Minister KT Rama Rao and his son Himanshu Rao, who has recently bagged the Diana Award for his initiative – SHOMA, making villages self-sustainable. We have asked them to send us all the PET waste generated in the State. The Telangana government has responded positively to our requests. We are expecting something from them in the near future.
What are your future endeavours?
It is proving very costly for us to buy the plastic waste, which costs around Rs45-50 per kg. Currently, our main goal is to procure the raw material – PET plastic from local communities and people who want their waste to be recycled. We want everyone to know that discarded plastic materials and bottles can be recycled into wearables.
The recycled polyester gives a second life to a material that's not biodegradable and would otherwise end up in landfill or the ocean. Its production requires 60 per cent less energy than virgin polyester. It reduces carbon emissions by 40 per cent when compared to virgin polyester. It is the clear choice and the future.
We also retail upcycled plastics towards building a self-sustaining social venture. We are reconsidering the production chain and recycle all recoverable materials with economic and environmental benefits.