Begin typing your search...
Fitterfly: The digital therapeutics platform that is changing the way diabetes managed
Fitterfly started out as a tech stack that focused on diabetes management, obesity, and heart problems. Over time, it has evolved into a holistic platform that also addresses lifestyle factors such as nutrition, exercise, and stress management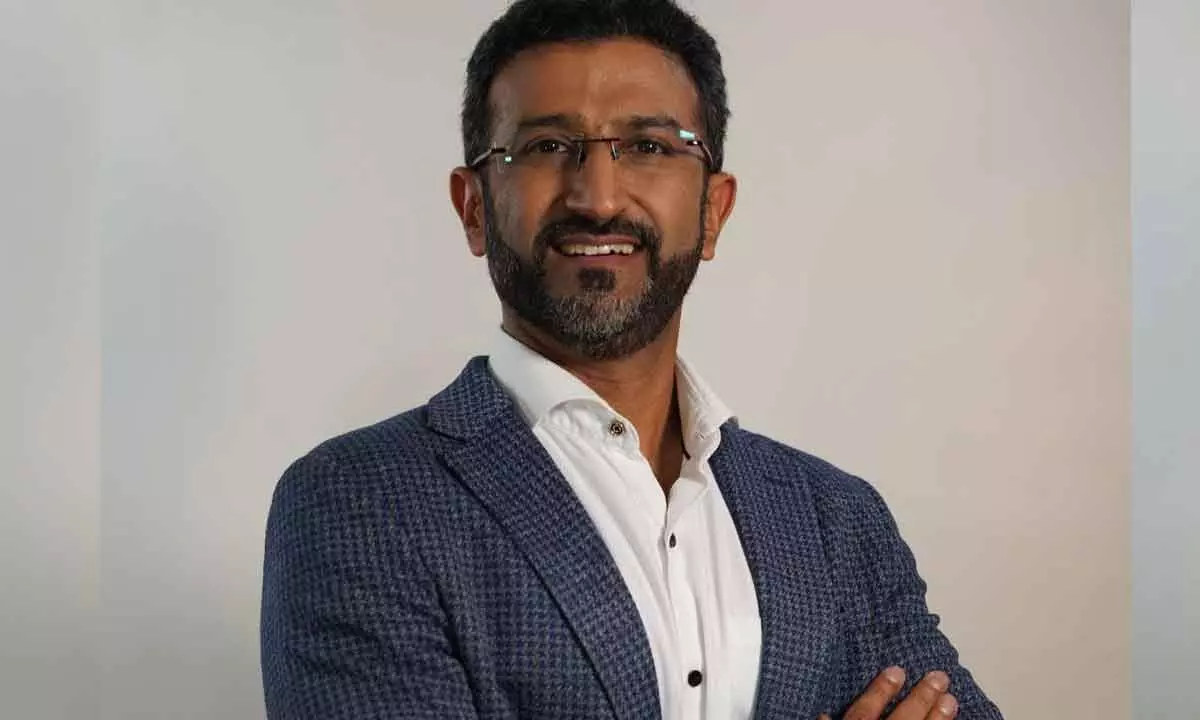 Dr Arbinder Singal is a medical doctor and serial entrepreneur with over 20 years of experience in the healthcare industry. He is the CEO and Co-founder of Fitterfly, a digital therapeutics (DTx) platform that uses technology to help people manage diabetes, obesity, and other chronic health conditions. In an interview with Bizz Buzz, Dr Singal talks about his journey as an entrepreneur, the challenges of developing a DTx platform, and the future of Fitterfly
How has Fitterfly evolved?

Fitterfly is my personal journey in nutrition and metabolic health. When we started Fitterfly, first three years were spent building India's leading clinical nutrition database. We wanted to help people with scientific diet and nutrition plans for various health conditions. We won a lot of awards and projects with leading companies with that database. In 2109, I was diagnosed to have early diabetes and I used the power of nutrition database paired with CGM insights to reverse my early diabetes. From there, an idea was born to create a diabetes programme in the Fitterfly App to help people with diabetes. In the last four years, Fitterfly has evolved beyond being a tech stack solely focusing on management of diabetes, obesity, and heart problems. Today, the platform helps in bringing about behavioural changes for a sustainable and healthier lifestyle.
The programme is clinically proven to have best in class health outcomes. Fitterfly has achieved outcomes such as 20-50 per cent reduction in high blood sugar levels of people subscribing to our programme within 3 months of enrolment. In fact, in early stages of diabetes, this can help in diabetes remission also known as diabetes reversal in layman's terms. In the late stage of diabetes, the programme has proven to be of great help in reduction in medicines and complications. Alongside focusing on improving diabetes management, and introducing new care processes, we are also driving awareness about the adverse effects of diabetes such as loss of economic opportunity for the affected persons, and their employers alike.
Recently, we set up X-Labs within Fitterfly to address two critical areas of diabetes care. The first is AI Coaching and Chatbots that will handle progress monitoring, set reminders, answer common queries, and provide routine information. This will allow our human coaches to deliver in-depth personalized care, surpassing the capabilities of when Fitterfly initially began its journey. The second mission of X-Labs is to leverage personalised data analysis and hybrid workflows. This will help us empower clients with insightful health journey understanding and actionable steps, nudging them towards their goals. We are now aiming to expand DTx coverage for health conditions such as diabetes, PCOS, obesity, and heart diseases, and contribute to reducing India's disease burden through scalable deployment of technologies.
What led you to begin your journey into entrepreneurship?
Right from my early years into the medical profession, I have been keen to make an impactful contribution to the healthcare delivery ecosystem. My entrepreneurial journey started with the establishment of two hospitals, Advanced Eye Hospital (acquired later by Agarwal Eyecare), and Mitr Hospital which is successfully serving the patients in Navi Mumbai. I also founded mediAngels.com which was my first digital healthcare venture, and it was acquired by 1mg.com in the year 2016. My social welfare leanings made me establish One Vision Foundation, an organization that conducts over 500 free eye-surgeries every year, and runs several high impact awareness programmes. I am currently the founder and trustee of the Foundation and we run several annual campaigns to drive awareness about blindness, and ways to protect/care against it. Thus, I have always believed that the role of a clinician is not just one-to-one care delivery, but also to creating a larger impact through healthcare entrepreneurship in physical and digital spheres.
Fitterfly is my second health-tech venture. It was born out of my personal experience with diabetes. It was quite a shock for me to be diagnosed as a pre-diabetic despite being a fitness and health-conscious person. Since I had a long family history of diabetes, my blood sugar level fluctuations that I experienced put me under a lot of stress. That is when I tried a CGM sensor and measured its correlation with my daily activities. The insights that I uncovered were quite eye-opening. This data was then coupled with the nutrition insights of Fitterfly's comprehensive food database, and the outcome proved to be a game-changer. This made me realize that there were many others with similar conditions and there was a need for a solution that could help them manage or reverse their diabetes. This led me to launch Fitterfly as a highly personalized and innovative digital therapeutics (DTx) platform with what we called the Personalized Glycemic Response (PGR).
What is the complete range of services offered by Fitterfly?
Fitterfly has been designed as a digitally-driven platform that uses scientific knowledge and personalize data-driven interventions for diabetes management, weight management, stress management, and fitness management. We have created a holistic ecosystem of devices, real time insights, personalised content and coaching from experts such as nutritionists, physical therapists, psychotherapists to ensure end-to-end management, prevention and even reversal of diabetes and obesity. We offer annual diabetes and weight loss programmes which are available on our website and app.
Which are the key focus areas for Fitterfly?
Until now, we have specifically focused on diabetes and obesity management, but we believe that the impact of Fitterfly's data-driven DTx interventions can go far beyond that. We are now focusing on expanding our platform's coverage for health conditions such as PCOS, hypertension (High BP) and heart diseases alongside diabetes and obesity management. Our aim is to contribute to reducing India's disease burden through scalable deployment of technologies. Further, we are also dedicated to spreading awareness of the adverse impacts of diabetes for affected persons and their employers alike. From a larger perspective, Fitterfly aims to establish collaborative ecosystems that integrate all stakeholders including patients, doctors, government authorities, corporate world, and the general public to drive mass understanding of the challenge, and the solutions available.
In what ways does Fitterfly's collaborative approach benefit patients in the management of their diabetes and overall health?
Traditionally, diabetes management is approached from testing, doctor consultations and pharma therapy alone. It is seen as a standardized one-size-fits-all process, which is also one of the reasons for low adherence to medication and dietary prescriptions among people with diabetes. Further, the cumbersome process of repeatedly going for needle-based diabetes testing also burdens the patient, and monitoring becomes erratic. In many cases, people don't take any medication or get themselves checked despite having symptoms or even confirmation of diabetes. This is where Fitterfly's collaborative approach of continuously monitoring the glycaemic effect of each meal through continuous glucose monitors (CGM) has been a game-changer. This approach is holistic in nature and combines personalized nutrition plans based on each person's own glycaemic responses to different food items, integration of physical exercise, sleep and stress management, to deliver positive outcomes. Further, we have been driving awareness about the effects of diabetes on quality of life and productivity, and making people understand how lifestyle changes can help them enjoy better experiences and output.
How does Fitterfly incorporate the missing pieces of the diabetes circle into their services to improve the quality of care and management?
For a long time, the diabetes care initiatives have focused only on the medical part of the problem, and addressing the blood glucose spikes through medication. However, we are using cutting-edge digital technologies to monitor the in-depth impact of lifestyles, food habits, sleep patterns etc., on a person's sugar levels. This has enabled us to focus more on the causes that drive diabetes such as poor sleep quality, stress, lack of physical activity and poor nutrition. We have built an end-to-end framework by using digital technologies to provide expert support through doctors, physiotherapists, psychologists, and nutritionists. This helps in reducing diabetes prevalence, and effectively managing, reducing and reversing diabetes among the affected people. We have created solutions for the corporate sector that is severely affected by absenteeism and under-productivity of employees with diabetes. Our aim is to help the corporates leverage our DTx platform's impact, and reduce the medical costs as well as the frequency of illnesses and hospitalization that affects their organizational productivity and environment.
How would you describe the development of Fittefly Diabetes Prime, a CGMS-based Diabetes programme, and its remarkable results in improving glycemic control and reducing medication dependence?
Fitterfly Diabetes Prime is an advanced technology-driven CGM-based diabetes management programme. The programme comes with a 12 month subscription and a welcome kit. The welcome kit includes a CGM sensor, a glucometer, a psychology workbook and quarterly blood tests across 100+ cities. The programme also has a full DTx care system for diabetes for 12 months within the Fitterfly App. This programme uses "Legacy Effect" which means that if you achieve normal blood sugar levels and manage it for one year, then the benefits to your heart, kidneys, liver and rest of the body will last up to 10 years.
The key components which make the Fitterfly Diabetes prime programme the best diabetes programme in India are: Real time CGM insights for 37,000 Indian foods; Painless blood sugar monitoring; Group therapy; Personalised diet plans including PGR technology; Pain management & fitness plans to lower insulin resistance; Stress & sleep management and Guaranteed clinically proven outcomes.
The programme has already benefited more than 20,000 people, and 95 per cent of the people joining the programme have reported a 20 per cent to 30 per cent drop in their glucose levels within three months. People have also achieved weight loss ranging from 5 kg to 10 kg in three months and their fat percentage came down by 60 per cent. Their quality of life and fitness have also shown improvements of over 50 per cent to 70 per cent after regular usage of the Fitterfly Diabetes Prime programme.
What are your plans for Fitterfly pan India and internationally?
We are planning to cover more chronic diseases in the next 3 years such as obesity, heart disease, hypertension, PCOS, respiratory and cancers. We are also looking at deploying our programmes and software as co-developed SaaS platforms with large employers, insurers, and big pharma. We have seen good interest from insurance companies and healthcare partners in the GCC and SEA region, hence we may expand to these countries in 2024.
What is your vision for the future and how can you positively impact millions of lives?
DTx platforms like Fitterfly will play an invaluable role in helping India enjoy its demographic dividend. The prevalence of chronic ailments like diabetes is a major threat to the economic and social growth of the nation, and that is where we need DTx to help the millions overcome these health challenges through convenient, affordable, effective, and easily accessible care interventions. Platforms like Fitterfly will continue to devise solutions that reduce absenteeism, costs of healthcare and loss of productivity for the businesses. We are also aiming to expand the benefits of our platform to cover ailments like PCOS and heart diseases alongside diabetes and obesity management. We remain committed to helping one billion people achieve better health outcomes over the next 10 years.