Begin typing your search...
Frontier Raas unveils flagship store in Hyderabad
Pinky Reddy and Sudha Reddy, prominent figures in the fashion and cultural sphere, graced the launch event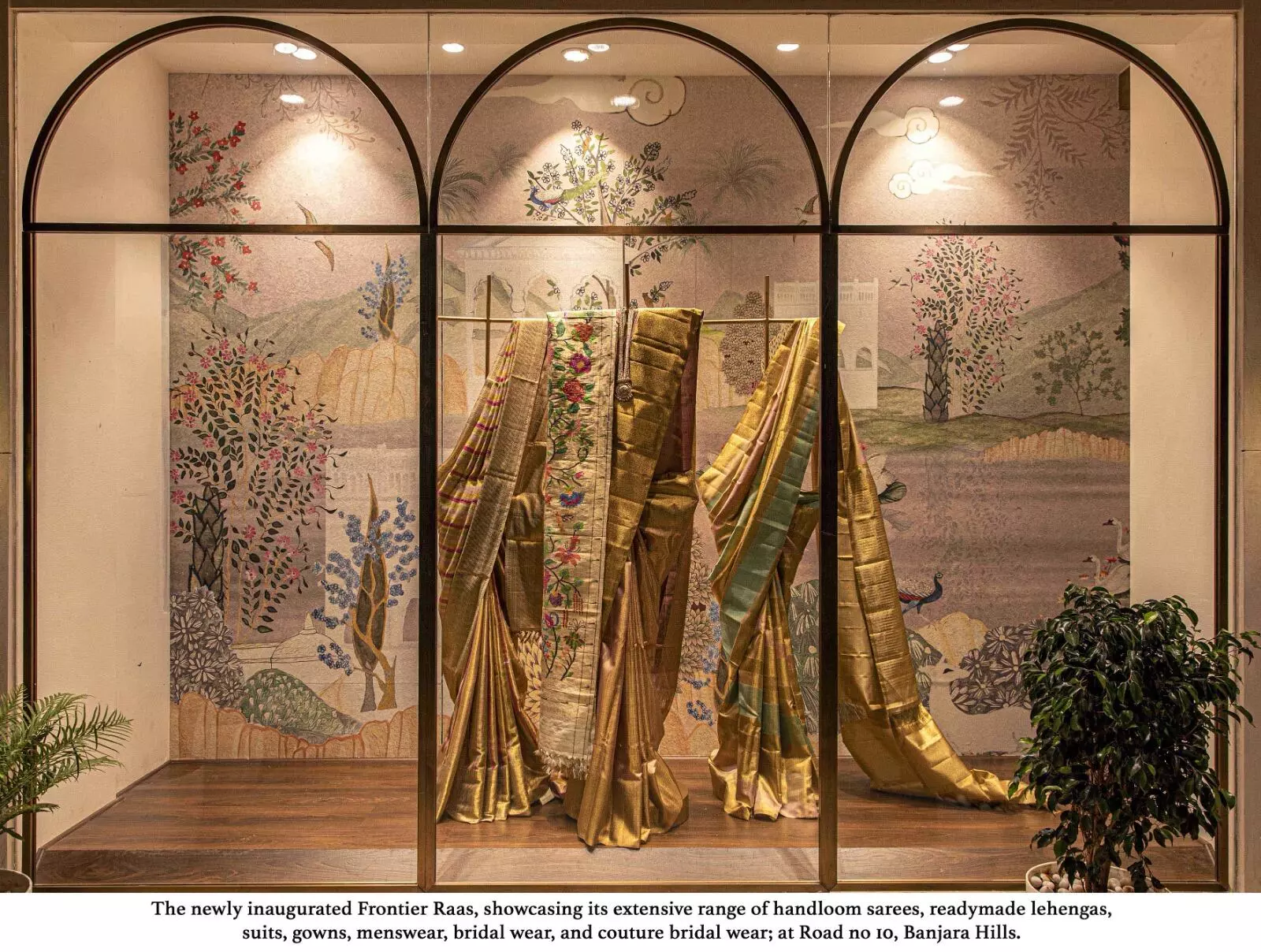 Hyderabad: Frontier Raas has announced the launch of its flagship store in Hyderabad, offering an exceptional blend of tradition and modernity. This one-stop shopping destination for premium wear for weddings and festive occasions. Hyderabad has a deep-rooted connection with Indian culture and traditions. By opening a store in Hyderabad, Frontier Raas can cater to the fashion needs of this community and offer them a taste of home.
Aamir and Hameeda, the architects behind this endeavour, in collaboration with the directors of Frontier Raas, have meticulously curated the store's interiors and architecture. The store welcomes you with a grandiose façade, adorned with their iconic FR Jali framing the installation. Inspired by the intricate Mughal School of Art, this spectacle comes to life on indo-wood through the precision of CNC Cut technology. Home-grown elements intertwine throughout the multi-storey space, graced with exquisite Art Deco furnishings. Staying true to the brand's identity, the store follows the signature ivory and gold color story, characterized by sleek, geometric, and luxurious materials.
Frontier Raas's Hyderabad flagship store brings a diverse and hand-picked collection to the city of Hyderabad. The new store offers an extensive range of handloom sarees, readymade lehengas, suits, gowns, menswear, bridal wear, and couture bridal wear. Additionally, the store provides customisation services, allowing you to bring your dream outfits to life, tailored to your unique style and preferences.
The core ethos of Frontier Raas, steeped in sustainable luxury, is now beautifully realized in this new store. Their aim is to unite traditional elegance and modernity, providing a luxurious boutique that seamlessly blends the essence of both elements.
Frontier Raas hosted a launch event graced by dignitaries, influential women, and spirited bloggers, all of whom share a mutual love for the craft and fashion. Pinky Reddy and Sudha Reddy, prominent figures in the fashion and cultural sphere, added their charm to the occasion. The multi-storey boutique echoed with laughter, lively conversations, and the melodious strains of Carnatic Ragas, performed by a local group of Gayaks.
At Frontier Raas, a commitment to the preservation of handloom artistry is unwavering. To showcase the intricate craftsmanship and celebrate the art of weaving, they organized a life-sized loom within the store. Skilled weavers demonstrated their craft, weaving traditional Paithani motifs, allowing the esteemed guests to witness the beauty of this generational craft.